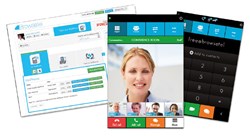 WebRTC video calls on Samsung gear smart watch presented by BrowseTel.com.
Paris (PRWEB) December 12, 2013
The road to a world without telcos is everyday closer to becoming a reality. The merging of web and telecommunication gives unlimited options to change human habits. There must be a bridge between existing public voice telephone network and web and this bridge was presented by BrowseTel, one of the cloud service providers, offering a multichannel real time communication platform that works inside a browser based on WebRTC technology.
The WebRTC 2013 conference in Paris was perfect and the 3 day program included also a short 10 minute demo presentation by select companies. BrowseTel.com presented their platform and its ease of use when configuring a communication layer inside a small or large enterprise. They offer local telephone numbers from more than 80 countries that can be connected to your system with just a couple of clicks. Click to call web buttons, QR codes that establish a call, email signatures with call links inside, permanent Meet-Me Conference rooms, fax to email and much more can be done inside a user friendly control panel. BrowseTel also presented a HTML5 web-phone that is a full feature communication device with a variety of call control features such as: call transfer, call hold and retrieve, three party conference, directory services support including presence and support for other type of communication channels like instant messaging, chat and SMS messaging.
At the end of the presentation BrowseTel shocked the audience with a WebRTC video call fully processed with Samsung Galaxy Gear smart watch. The wearable tech can be also equipped with this type of technology and real time communication. This technology will spread to all devices to optimize our living experience. With Samsung smart watch, you can easily scan a QR code on the product or business card and a call will be established directly.
Event in Paris showed us that WebRTC video, audio and data communication inside web browser is today's reality and we can't wait to see new products and services based on WebRTC technology.
######
Ian Taylor, Public Relations Manager
T:+442035148811
http://www.browsetel.com
info(at)browsetel(dot)com