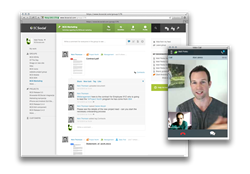 This award is a wonderful recognition of the team's technical achievements.
Atlanta, Georgia (PRWEB) June 27, 2014
BrowseTel is pioneering browser-based WebRTC technologies with the ability to connect with public voice networks. This capability has the potential to liberate voice communications for businesses and opens up significant integration possibilities across a plethora of industries and technologies.
To demonstrate this, Browsetel teamed up with BCSocial and showed a live demonstration of these integrations at the 2014 WebRTC IV Atlanta Conference. CEO Gregor Zebic explained, "Having real time communication in a browser is the next wave in how businesses will connect with each other and their customers. By simply clicking on a link, a user can start to chat with a colleague or a customer care agent. This makes voice to text communication seamless. We are delighted to have been recognized for this by our peers at the conference."
At the conference, the BrowseTel and BCSocial teams demonstrated the ease with which an exchange with a colleague could turn into a voice communication. This conversation took place along with the relevant documents and history all of which are visible and available to both participants. For a work collaboration platform like BCSocial, this is a key added value for its users and brings the company closer to delivering on its vision as being a cloud-based location for users to connect, create and share with colleagues and customers.
In addition CTO of BrowseTel Matej Zvan received a prestigious WebRTC Leading Innovation Pioneer award. He explained, "This award is a wonderful recognition of the team's technical achievements. In November of this year, at the Santa Clara Web Conference, we are looking forward to showing some more real world applications of WebRTC featuring work we have been doing at clients that range across the retail, banking, customer care and insurance sectors".
For more information on WebRTC solutions of BrowseTel or BCSocial, go to http://browsetel.com or http://bcsocial.com.