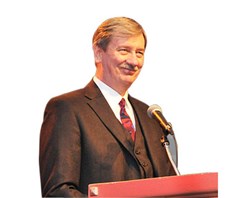 Bruce Clay, global SEO Guru and founder of Bruce Clay, Inc. will be on his fourth visit to India in February 2014 to conduct an exclusive 3 day SEO training course.
Gurgaon, Haryana (PRWEB) November 26, 2013
Bruce Clay, global SEO Guru and founder of Bruce Clay, Inc., will be on his fourth visit to India in February 2014 to conduct an exclusive 3 day SEO training course. His special training program will focus on showing online businesses how to increase search traffic thru higher search rankings. In addition attendees will learn how to improve site performance through White Hat search engine compliant SEO techniques.
Google is continuously upgrading its algorithm with the likes of Google Panda, Penguin, Hummingbird and many more. The main objective of all these algorithm updates is to ensure display of higher quality websites at the top of Google's search results. Google's constant updates require all digital marketers to update themselves with the latest industry best practices whilst integrating these emergent trends.
This program provides vital insights to Marketing Managers, Brand Managers, Entrepreneurs, Webmasters, IT Managers and In-House SEO Analysts.
Bruce Clay has been the official SEO workshop partner for the SMX conference series in the U.S. for the last five years. He was the 2013 honoree of the History of SEO's Lifetime Achievement Award for excellence in vision, execution and market influence in the practice of search. He has delivered SEO Training for over 12 years with courses now held in USA, Europe, Australia, Asia, South America & Africa. The training is based on over 18 years of search engine research and successful search engine optimization for clients. The new 2014 SEO Training program covers:

SEO fundamentals, emerging trends and key concepts
Increasing CTR (Click Through Rate) and engagement
Siloing - Site structure and key concepts
What is PageRank and how to increase link popularity
Linking Strategies
Page Analysis -How to analyze and edit your own content
Personalized and behavioural search
Measuring success and other key SEO KPI's
SEO Best Practices
Past attendees include Product Managers, Brand Managers, IT Managers and In-House SEO Analysts from Magic Bricks, IBIBO Group (Goibibo.com, Tradus.com, Gaadi.com), Apollo Munich, HCL, Outlook, iYogi, ICICI Lombard, Centum Learning (Bharti Group), and more. This International SEO Training program is highly rated and past attendees have raved about the program: Sudipto Nandy, Senior Product Manager, Magic Bricks, says, "Fascinating experience with lots of eye opener points. A definite 'must attend' for anyone dealing in SEO. I would rate it a 10 out of 10."
Siddharth Lal, Managing Director, Bruce Clay India, says, "With the recent algorithmic updates by Google, SEO professionals in India have been struggling with organic rankings and traffic for their business. With the ethical white hat SEO practices at Bruce Clay India none of our clients have been affected adversely by these updates. The Bruce Clay SEO Training would be a great opportunity for online businesses to re-model their SEO strategy."
Attendees at the training will receive a detailed course manual, a 1-year subscription to the SEOToolSet® (valued at Rs. 50,000), a graduation certificate, and meals and refreshments.
Last year's SEO Training program was completely sold out and the "Early Bird" booking was closed a week prior to the scheduled date. So book your seats early to avoid disappointment.
Visit http://www.bruceclay.com/in/seo/training.htm or call 91(124) 414-3292 for more information about the SEO training and other SEO services provided by Bruce Clay India.
Further information:
Bruce Clay India is a leading provider of Internet Marketing Solutions with an emphasis on Search Engine Optimization (SEO). Bruce Clay India is part of Bruce Clay Inc. and provides SEO Training, SEO services, PPC, SEO Web Design and Social Media services to the Indian market. In October 2013 the Search Marketing Industry conferred the Lifetime Achievement Award to Bruce Clay. Mr. Bruce Clay has been a contributing author of 746 page Wylie book Search Engine Optimization All-In-One for Dummies, SEO Code of Ethics (now in 18 languages), Search Engine Relationship Chart®, and SEO training and certification programs that promote ethical SEO practices. BCI is also the creator of the award-winning SEOToolSet®. The company is headquartered in California and has offices in Australia, South America, India, Asia and Europe.