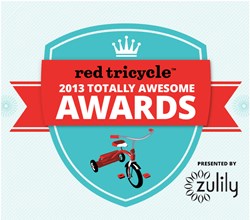 We are thrilled that Red Tricycle recognized Brunswick Family Campground for the best family camping sites in the entire Washington Metropolitan Area! - Lee Baihly, President River & Trail Outfitters
Knoxville, MD (PRWEB) September 26, 2013
Brunswick Family Campground has been voted to have the most awesome family camping sites in the Washington Metropolitan Area. The recognition was given by the e-savvy company Red Tricycle whose mission is to "help busy parents have more fun with their kids." According to their website, "Red Tricycle's Totally Awesome Awards" lets parents nominate and vote for the best family-friendly products, parenting tips and resources in their community."
Brunswick Family Campground is located on a quiet stretch of river frontage land beside the Potomac River and the C&O Canal National Historic Park in Frederick County, Maryland. The campground is owned by the city of Brunswick, Maryland and is managed by River & Trail Outfitters, the oldest family outfitter in the Harpers Ferry region. Surrounded by beautiful views and abundant wildlife, campers can explore nature by canoes, kayaks, tubes or bikes conveniently available for rent onsite at the campground, through River & Trail Outfitters. Fishing can be done from the shore or on a boat launched at the campground's public boat ramp. The campground has 100 Tent Sites and 48 RV Sites with electric service and water hookups. Additional facilities include a dumping station for campers, a bathhouse with hot showers, a campground store and vending machines. There are three covered pavilions with plenty of room for groups, and picnic tables are located throughout the campground. A children's playground, along with game areas for horseshoes and volleyball and basketball courts, round out this uber family-friendly campground. Other attractions nearby include whitewater rafting on the scenic Shenandoah and Potomac Rivers, the Appalachian Trail, Harper's Ferry National Historic Park, Antietam National Battlefield and the Brunswick Railroad Museum. Restaurants, crafts and antique shops are also nearby. Campers can conveniently visit Washington, D.C. by commuter trains Monday--Friday. The train station is located 3/4 mile from the campground, within easy walking distance.
Campers can access the campground by road, by bicycle on the C&O Canal Towpath or by boat on the Potomac River. For a perfect "Get Out Of the City Package," take a camping weekend by riding a Friday commuter train to Brunswick and returning on a Monday morning commuter to D.C.!
Learn more at Brunswick Family Campground under new management in 2013 by River & Trail Outfitters.
About River & Trail Outfitters
River & Trail Outfitters of Knoxville, Maryland was founded in 1972 by Lee & Eunsook Baihly, natives of Minnesota and Korea. Lee with his Eagle Scout's experience used his knowledge and love for the outdoors to build a high-quality professional outfitter focusing on safety and excellent customer service. River & Trail is licensed by the Department of Natural Resources in Maryland and West Virginia, a member of America Outdoors and the Shenandoah River Outfitters Association. Commercial use authorizations for the National Historic Parks of the C&O Canal and Harpers Ferry, and Antietam Battlefield. Four decades later, River and Trail remains a family-run operation and full-service outfitter with over one hundred staff offering a wide variety of quality outdoor trips in the Tri-State (Maryland, Virginia, & West Virginia) area. http://www.rivertrail.com
About Red Tricycle
Red Tricycle is a digital media company that provides authoritative, localized content (things to do, see, eat or buy with kids) to its growing online community of busy urban moms through a variety of communication devices: email, website, social media, RSS, mobile. Operating in seven major markets (DC, NY, LA, SF, SEA, PDX, SD), the company is now embarking on its next growth stage and begin scaling its sales force, geographic distribution, revenue streams and content management ability.
Red Tricycle is focused on the 34 million moms in the U.S. with children under the age of eight. With total US Mom spending expected to hit $2.1 trillion in 2012 (Maria Bailey, author Mom 3.0: Marketing With Today's Mothers by Leveraging New Media & Technologies), Red Tricycle's is extending its reach to connect with moms (and dads!) where they spend the most time, in their local communities. http://www.redtricycle.com.