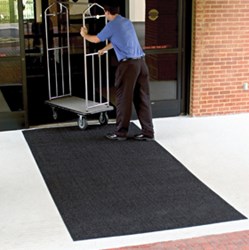 Brush Hog mats are both durable and effective for high-traffic, outdoor building entrances.
Cleveland, Ohio (PRWEB) October 30, 2013
The new Brush Hog and Brush Hog Plus outdoor scraper mats are designed for wet or dry entrances to commercial buildings. The turf pile fabric construction of both Brush Hog Plus and Brush Hog filters dirt and moisture away from the mat surface. Brush Hog Plus mats have the added feature of bi-level reinforced construction for improved filtration performance.
These new mats feature green-friendly rubber backing using 20% post consumer recycled car tire content. They are offered with smooth or cleated backings, and the premium rubber will not crack or curl. With drainable borders and solution-dyed nylon that will not fade in sunlight, they are intended for outdoor applications for commercial buildings.
"Brush Hog mats are both durable and effective for high-traffic, outdoor building entrances," described company president Dan Ruminski.
Brush Hog Mats are 3/8" thick, and come in a variety of standard sizes ranging from two by three feet to six by twenty feet. Special sizes may be ordered in lengths of up to 60 feet.
Brush Hog Plus Mats are similar, but offer a classic square pattern with drainable fabric borders. They come in the same colors as Brush Hog in six standard sizes.
The National Floor Safety Institute certifies both styles of entrance mat slip resistant.
About Martinson-Nicholls
Martinson-Nicholls, has established itself as a leader in custom anti-slip tape, floor mats, and eco-friendly products for more than 25 years.
Martinson-Nicholls provides the customer with the exact size matting needed--small, large, standard, nonstandard, special shapes and logos. Custom installations are also a specialty of the company.
Anti-slip safety tapes and treads are available in various sizes and textures from hand cut or die cut pieces to full rolls and special shapes. For more information, please visit http://www.floormat.com.