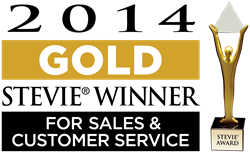 We have consistently risen to the challenge and delivered millions of dollars in ROI to our clients.
Houston, TX (PRWEB) February 26, 2014
SalesStaff LLC announced today that their two top executives have both been recognized at the 8th Annual Stevie Awards banquet held on February 21st at the Bellagio Hotel in Las Vegas, Nevada. COO Bryan Brorsen stands atop the Sales Operations Professional of the Year category, winning the Gold Stevie Award. In the Senior Sales Executive of the Year category, SalesStaff CEO David Balzen took home a Silver Stevie Award.
More than 1,500 nominations from organizations of all sizes and in virtually every industry were evaluated in this year's competition, an increase of 36% over 2013. 129 professionals worldwide acted as preliminary judges scoring each entry. The average of their scores were used to determine award finalists.
As a premier demand generation company and an Inc. 500 company, SalesStaff provides strategic demand generation services in the form of warm handoff lead generation and appointment setting for high-tech and complex-sale B2B companies through the deployment and management of quota-based marketing programs. Using an Inside Sales platform, the company researches opportunities and successfully secures meetings with key executives on behalf of its clients' B2B sales teams to expand their sales pipelines and accelerate sales cycles.
The merits for Brorsen's Gold Stevie Award are abundant. As President and COO, Bryan Brorsen heads our operation which is responsible for delivering thousands of sales leads and appointments every year to satisfy the requirements of SalesStaff's client campaigns. Bryan and his team works tirelessly, managing 100+ campaigns at any given time, overseeing the activity his operation. Bryan led the build out of significant resources in training, technology, support, and account management to enable his team to generate over 5000 prospect touches per day and deliver thousands of sales opportunities to clients annually. To date, his team has contributed over $2.5 billion in sales opportunity value to clients. Stated Brorsen, "The SalesStaff Production team is charged with the monumental challenge of producing quality sales opportunities for our clients and we have consistently risen to the challenge and delivered millions of dollars in ROI to our clients. This award is tremendous validation of the results we've realized for our clients." Brorsen continues, "It's a great honor to win the Stevie Award and I accept it on behalf of my staff of inside sales professionals. They are second to none in the inside sales industry."
David Balzen is the quintessential hybrid of Chief Executive, Sales Executive, and Marketing Pro – a powerful combination that has earned him multiple awards like the 2012 Top 25 Most Influential Inside Sales Professionals from the American Association of Inside Sales Professionals and the Sales Lead Management Association's annual '50 Most Influential People in Sales Lead Management' for 2013. His sales leadership also landed the company on the Inc. 500 as the 87th fastest growing company in America. As an executive and CEO in the demand generation industry, Balzen has helped lead the industry through the deployment of thousands of client lead generation programs during the past eighteen years. His wide-ranging understanding of combining the right talent and experience with the product/solution strategy and marketing data has led to multi-billion dollar growth within our client's sales pipelines. "SalesStaff has been blessed with incredible growth in recent years and we continue to look forward to continued growth by providing actionable sales opportunities to our clients that have a tangible impact on their bottom line," said Balzen. "I am honored to accept the Stevie Award as a testament to that growth that we've fought so hard to achieve."
"Entries to the Stevie Awards for Sales & Customer Service awards have almost doubled over the past few years," said Michael Gallagher, president and founder of the Stevie Awards. "Not only have we seen a dramatic increase in the number of entries; but the judges have also seen a remarkable rise in the quality of the nominations submitted overall. We congratulate all of this year's Stevie winners for their outstanding work."
A complete list of companies and individuals recognized at the 2014 Stevie Awards is published on the Stevie Awards website.
About SalesStaff LLC
SalesStaff is an Inc. 500 company and a premier provider of appointment setting and demand generation services for business-to-business companies. For more information, visit http://www.prosalesstaff.com or contact by phone 888-591-8022 Ext. 333. To schedule an interview with David Balzen or Bryan Brorsen, please contact 888-591-8022 or by email at info(at)prosalesstaff(dot)com.
About The Stevie Awards
Stevie Awards are conferred in five programs: the Asia-Pacific Stevie Awards, The American Business Awards, The International Business Awards, the Stevie Awards for Women in Business, and the Stevie Awards for Sales & Customer Service. Honoring organizations of all types and sizes and the people behind them, the Stevies recognize outstanding performances in the workplace worldwide. Learn more about the Stevie Awards at http://www.stevieawards.com.