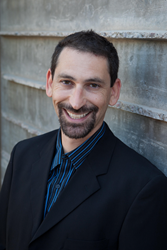 As Board Developer's new Creative Director, Bryan Lifshitz thrives on bright and creative ideas - and having fun while getting it all done!
Phoenix, Arizona (PRWEB) October 05, 2015
Board Developer announced recently that Bryan Lifshitz has joined the company as its new Creative Director. As the Creative Director, Bryan will support the Board Developer team with solutions to help clients achieve success with their Marketing and Advertising through solutions that are memorable and engaging.
Bryan Lifshitz is a business professional with a creative flare and more than 20 years of experience in corporate and small business direction for Marketing and Advertising. His expertise originated in visual communications (graphic design) and has expanded over the years to include printing, product development, account and project management, consumer products and convention planning; all the skills needed to promote products or services.
Bryan's creativity, ingenuity and abundance for "ideas" shows his passion and engagement in every project he is involved in. Bryan Lifshitz is a Dad Inventor, designer and a creative project manager with a proven ability to help businesses and organizations with his "big picture" thinking. That's thinking that never shuts-off. He thrives on bright and creative ideas – and having fun while getting it all done!
Bryan brings this excitement for invention and innovation to all audiences as he provides compelling stories and engaging discussions on how he's gone from kid salesperson to retail management right out of college. Then opportunities lead him to starting his own business and constantly looking to help develop the next great idea. His ability to bridge the business and creative worlds benefits all companies.
About Board Developer:
Board Developer takes your business model and enhances your company's success by developing an Advisory Board of Directors.
Board Developer helps companies achieve their goals with a customized approach that identifies its values, objectives, goals, weaknesses and needs. The result turns into a blueprint for success including Advisory Board member options ultimately chosen by you, along with additional operational support to improve efficiencies and infrastructure.
For more information call (602) 635-6161 or visit http://boarddeveloper.com