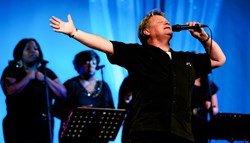 My audience and I share many of the same experiences. It's exciting to have a way to connect with some of them during the writing and recording process.
Riverside, CA (PRWEB) November 18, 2013
Recording artist Bryan Duncan announced a crowdfunding campaign to fund the release two new albums. The campaign, which would produce a live album and a studio recording of new songs, runs through December 8, 2013 According to Kickstarter's policy, Duncan must reach his campaign goal to receive any funding.
Duncan has released 14 solo albums, three with the NehoSoul Band and seven with the Sweet Comfort Band. His recordings have been celebrated with four Dove Awards and one Grammy Award. He has sold in excess of 1.2 million records and had 16 No. 1 radio hits.
Duncan uses social media and crowdfunding to fuel a new business model that allows him to connect directly with his audience, bypassing traditional record labels. Duncan has the creative freedom of an independent artist but is still able to compete with the big record companies for radio airplay and media coverage.
Crowdfunding is a convergence of technology, social media, fundraising and patronage that provides billions of dollars in backing to hundreds of thousands of projects. In addition to providing financial support, crowdfunding projects provide valuable information about public interests, facilitate deep relationships with backers and act as self-funded marketing campaigns for the events, services, products and campaigns they fund.
Kickstarter is a web site that describes itself as a new way to fund and follow creativity. "The cool thing about Kickstarter," says Duncan, "is fans get to be a part of my music project. That's a lot better than re-tweeting something I said or tagging me in a photo."
Duncan's supporters can also receive special incentives for participating in the campaign --autographed albums, house concerts and other personalized rewards.
"My audience and I share many of the same experiences. Interaction with them often is the inspiration for songs," Duncan says. " So it's exciting to have a way to connect with some of them during the writing and recording process."
Duncan views music as a calling, so he'll be writing and singing as long as he's able, with or without a record company.
"If you've got a calling, you're compelled to do it -- regardless of how painful it gets or what everyone else thinks about it. I'm grateful, though, that there are people who have listened to my music and supported me for so many years."
Duncan's critically-aclaimed Conversations album was funded through a 2011 Kickstarter campaign. "I learned so much about doing a crowdfunded project," says Duncan. "I am really happy with how Conversations turned out but I believe I can make the journey even more enjoyable for everyone involved this time.
"The crowdfunding process and how we continued to involve the audience after the campaign closed had a profound influence on my songwriting," says Duncan. "There's a current of gratitude that runs through Conversations."