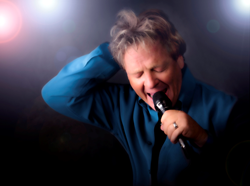 Duncan uses social media and crowdfunding to fuel a new business model that allows him to connect directly with his audience, bypassing traditional record labels.
(PRWEB) May 13, 2014
Music legend Bryan Duncan released a video of Ain't No Sunshine, from his upcoming album The Live Experience, on YouTube and Vimeo for Blues Day Tuesday.
Duncan captured the video with a seven-piece band in Puyallup, WA during the recording of his upcoming crowdfunded album The Live Experience produced by Christopher Redner.
Duncan has released 14 solo albums, three with the NehoSoul Band and seven with the Sweet Comfort Band. His recordings have been celebrated with four Dove Awards and one Grammy Award. He has sold in excess of 1.2 million records and had 16 No. 1 radio hits.
Duncan uses social media and crowdfunding to fuel a new business model that allows him to connect directly with his audience, bypassing traditional record labels. Duncan has the creative freedom of an independent artist but is still able to compete with the big record companies for radio airplay and media coverage.
Crowdfunding is a convergence of technology, social media, fundraising and patronage that provides billions of dollars in backing to hundreds of thousands of projects. In addition to providing financial support, crowdfunding projects provide valuable information about public interests, facilitate deep relationships with backers and act as self-funded marketing campaigns for the events, services, products and campaigns they fund.
Duncan's supporters can receive special incentives for participating in the campaign --autographed albums, house concerts and other personalized rewards.
"My audience and I share many of the same experiences. Interaction with them often is the inspiration for songs," Duncan says. "So it's exciting to have a way to connect with some of them during the writing and recording process."
Music maverick Christopher Redner introduced Blues Day Tuesday on social media with the hopes it will bring added attention to the Blues.
"Blues is a great American art form but unlike Jazz and Country, it doesn't have its own radio format," says Redner. "Most people can't just tune into a local Blues station. If you're lucky, there might be a station nearby that plays Blues some of the time. Social media can help fill that gap and play a very important role in helping people discover great Blues and the radio stations that play it."
Redner is encouraging people to share a favorite Blues song, album, video or artist on social media every Tuesday to celebrate Blues Day Tuesday in much the same way people participate in Throwback Thursday by posting an old photo of themselves. He hopes that stations that play some Blues can use Blues Day Tuesday to help promote the music they play by encouraging their listeners to make social media posts on Blues Day Tuesday.
Redner leads the Social Impact Facebook group where he teaches people how to increase their impact on social media. He will be asking his followers to help promote Blues Day Tuesday.
Redner is also encouraging the recording of new Blues music through This Music Moves Me, a blend of crowdfunding, social media and music for fans of artist development reality shows like "The Voice" and "American Idol."
Television programs like "The Voice" and "American Idol" have revealed there are millions of people who enjoy sharing the journeys of artists who yearn to be discovered and build careers in music.
This Music Moves Me allows fans to help make music they love and to profoundly impact the artists who create it. This Music Moves Me is a unique blend of recording projects, crowdfunding, social media and artist development.
Music fans support and promote recording projects in the genres that interest them. They can influence which artists get to participate and can share their musical journeys from song development through recording to national promotion.
Musical artists don't have to wait for a record company deal or a coveted spot on "The Voice" or "American Idol" to make significant strides toward a sustainable career in music. This Music Moves Me offers artists opportunities to grow their audiences, work with music professionals, develop as performers and record songs that will be promoted nationally.
Christopher Redner created This Music Moves Me because he has a passion for music and for helping the people who love writing and performing it. "I've met so many artists who are very talented but don't have a clear idea of how to turn those talents into careers," says Redner. "Even the ones with enough resources to write and record great songs often end up with good albums that very few people ever hear and consequently don't help them reach their goals.
"I love programs like 'The Voice' that allow singers to improve dramatically and build an audience quickly. But there are thousands of great vocalists who haven't landed a spot on a show like that. There are are singers who aren't ready yet for that opportunity and great bands, songwriters and other musical artists who never will fit the format of a show like that. So how do they get ahead?
"I decided to build something that would match up those artists with people who can help them develop and record and with audiences that will support and encourage them as they do. This Music Moves Me is my best effort to help fans find and participate in music that moves them while helping developing artists move forward on their musical journeys."
More information about This Music Moves Me is available at ThisMusicMovesMe.com. More information about Blue Day Tuesday is available at BluesDayTuesday.com. More information about Bryan Duncan is available at BryanDuncan.com.