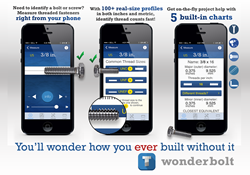 For a limited time, Wonderbolt is FREE on the App Store
Nyack, New York (PRWEB) September 16, 2014
"I just want to build MORE and swear LESS," thought Josh Koerpel, a mechanical engineer and former tall ship captain, frustrated with having to guess bolt and screw sizes used during various projects. "This is the mobile age, why isn't there a better substitute for the necessary plastic bolt gauges and tiny-print reference charts when working with project fasteners?"
So Koerpel took action and designed a solution.
Enter Wonderbolt, an innovative iPhone app that takes the hard out of threaded hardware measurement. According to Koerpel, who also founded the development company Brytework, "Wonderbolt is the ultimate tool to help measure, identify, and work with bolts and screws for any type of project. It's hardware store help right in your pocket, and currently available on the iPhone for less than the cost of a handful of screws and washers."
Can this simple and effective tool save time, money, and frustration for the novice and professional alike? Koerpel, who can speak from experience, is confident the answer is yes.
Quicker than one can ask 'Is this screw US or metric?" Wonderbolt allows the accurate measurement of either, including the length, diameter, and the thread count. Wonderbolt also provides related information from five different reference charts for any selected fastener. Use Wonderbolt to determine the required socket or Allen wrench sizes, key dimensions in decimal form, or which drill bit to use for a clearance hole. There is even a "search size" function for a handy project reference.
With Wonderbolt, much like any successful product, it's the details that matter. This app is jam-packed with ways that allow craftspeople of any skill level to fasten faster. Features like high contrast colors, a novel dynamic sizing technique, and the ability to save and notate your measurements for later reference make Wonderbolt as unique as it is convenient. It has even been designed for easy use in either hand.
"Wonderbolt helps you develop the confidence to make your store and online fastener purchases like a pro. There'll be no more wasted time searching endlessly for what you need on that next project" notes Koerpel. "Just because it's 'do-it-yourself', doesn't mean you're always on your own. Add Wonderbolt to your tool kit and have helpful, decisive information on-hand, right in your hand. After a few project assists, you will wonder how you ever built without it!"
Wonderbolt can be found on the App Store: https://itunes.apple.com/us/app/wonderbolt/id873989562
Josh Koerpel spent 6 years working as an independent maritime professional on the waters of North and Central America, the Caribbean, and Europe. He is currently a mechanical engineer for the entertainment industry and founded Brytework in 2013. Connect with Josh through LinkedIn: linkedin.com/in/joshuakoerpel
For additional press information, please visit Wonderbolt's Press Kit page
Or visit their website for more information: http://bryteworkapps.com/pages/about-us/
Other Releases by this Member
prweb.com/releases/2014/07/prweb12039731.htm