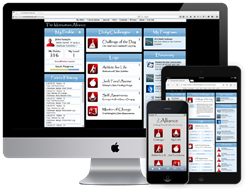 "Games work and our engagement metrics show the benefit." -Mark Brittingham, BSDI President & CEO
Califon, NJ (PRWEB) June 16, 2015
BSDI, a recognized innovator in the health technology space, will be presenting their employee wellness portal and companion app during the SHRM 2015 Annual Conference & Exposition, located at the Las Vegas Convention Center. BSDI will be at Booth #2941 showing how The Motivation Alliance® is the perfect match for HR professionals looking to bring well-being into the workplace with an engaging cost-effective solution. The Alliance is a game changer for directors and managers aiming to improve company productivity and promote a culture of health. BSDI has revolutionized employee health and wellness with The Motivation Alliance® – an easy-to-use portal that engages employees through social community and fun.
The Motivation Alliance® health promotion portal features a flexible, comprehensive interface including:

Cutting-edge game technology
Alliance Companion Mobile Web App
175+ connected apps and wearables (Fitbit®, Jawbone®, MapMyFitness®, etc.)
Daily Challenges (fitness, diet, stress, and more)
Team Challenges
Social interaction and socially recognized progress
Fitness technology with the largest library of fitness assessments of any digital health company
Unique menu-like food logging that uses one of the largest food libraries in existence (verified nutrition database, including restaurants)
Tobacco Free Smoking Cessation Tracking
The Motivation Alliance® portal is gamified and has shown incredible success in early-adopter organizations. Game technology leverages the natural desire for socializing, competition, and achievement, making it intrinsically motivating and rewarding. BSDI President Mark Brittingham explains, "Games work and our engagement metrics show the benefit: after moving from a standard health promotion web portal to BSDI's gamified Alliance portal, total logins per year at a major hospital chain (over 30,000 participants) rose over 600%." Right now, people who sign up can take advantage of a 2015 special promotion and save $750 on The Motivation Alliance® software.
BSDI will be at exhibition Booth #2941 in the Health & Wellness section. The BSDI booth will feature engaging product demonstrations and health-related giveaways.
Exposition hall hours are:
Sunday, June 28: 4:00pm-7:00pm
Monday, June 29: 9:30am-4:00pm
Tuesday, June 30: 9:30am-2:00pm
The SHRM Conference is the largest of the year, and boasts speakers that range from Mike "Coach K" Krzyzewski to Dr. Oz. Over 14,000 HR professionals flock to the conference yearly to take advantage of the 600+ industry-expert vendor exhibitions and endless networking opportunities. Over 70% of the HR professionals that attend the conference are manager-level or above, ensuring the best and brightest of the industry will be browsing the many solutions and decide what is the best fit for their organization.
BSDI is thrilled to be a technology vendor at the 2015 SHRM Conference and Expo, the world's largest HR marketplace. BSDI encourages conference participants to join their Facebook event and to engage with the company and conference events by utilizing these social media hashtags: #SHRM15, the official hashtag of the conference and #BSDI.
ABOUT BSDI:
Founded by Dr. Mark Brittingham in 1991, BSDI has been an influential force in health promotion for over 20 years. BSDI's focus on advanced web technologies and sophisticated data analysis has proven attractive to forward-looking corporate, government, hospital, and commercial health and wellness facilities. The Motivation® web portal has become one of the industry's most secure and trusted technologies (HIPAA, HITECH, Section 508, and GINA compliant) and our hosted applications software delivery removes the need for organizations to handle complicated installation, set-up, and site maintenance. BSDI is a 5-time winner of the prestigious Nova7 Award for "Best Computerized Technology Supplier" and continues to be recognized as a cutting-edge industry leader. For more information, visit the BSDI website or company LinkedIn page.