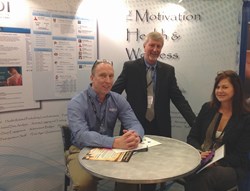 The Motivation Alliance uses the principles of game mechanics to maximize participant engagement!
Califon, NJ (PRWEB) November 14, 2013
BSDI will be exhibiting at this year's Athletic Business Conference & Expo, which is the largest fall sports and fitness trade show in the industry with 300+ exhibitors and 600+ booths. The ABC & Expo, to be held November 21 thru 23 at the San Diego Convention Center, is a premier educational event and trade show for athletic, fitness and recreation professionals from around the world. 2013 marks BSDI's 10th year of participation in this highly anticipated industry show.
ABC 2013, sponsored by Athletic Business Magazine, will focus on "Keeping Current in a Changing Environment." Inspiring keynotes, seminars, workshops, and events will address how organizations can stay current and succeed in a new economic and social environment. Today's professionals face the challenge of a rapidly changing world – factors such as technology, trends, and social media influence the course of the health-fitness industry. ABC will highlight cutting-edge products, services, and technical innovations.
The BSDI exhibit booth will feature our newest technical innovation – The Motivation Alliance® – BSDI's "gamified" web-based health and wellness platform. Gamification, the latest trend in fitness and wellness applications, applies game technology and social connectedness to improve health behaviors and outcomes. The Alliance makes adopting healthy habits fun and artfully weaves an engaging and social health promotion program with a validated Health Risk Assessment (Wellness Profile), fitness assessment, a proven coaching interface (Coaches Corner), attendance tracking (Check-In), customizable points (Points Vault), an exciting and flexible incentive program, and a broad range of easy-to-use reports and queries for data analysis. The Alliance offers users an exciting gaming environment that maximizes engagement; it includes a daily challenge (Challenge of the Day) as well as inspiring tools for activity promotion (Athlete for Life), diet management and recipes (Junk Food Averse), smoking cessation (Tobacco Free), stress management and life planning (Self Awareness) and biometric tracking (Master of Change).
All of these challenges and tracking tools are wrapped in a game layer that awards points, "level-ups," and badges, which provide immediate intrinsic rewards and recognize personal achievements. Threaded throughout the Alliance are interactive ways for building a network of social support – Member Profiles, Allies, Conversations, Leader Boards, Hall of Fame, Kudos Book, and a Shared Journal – which encourage your participants to advance toward their personal goals while your organization builds a culture of health.
The Motivation Alliance also incorporates an optional customized WordPress site for limitless content management needs, bulk email and messaging, an all-inclusive calendar that permits member reservations and wait lists, and a mobile web app for tracking on-the-go. The Alliance is sophisticated, cutting-edge, customizable, and powerful – it is the most comprehensive platform for health promotion on the market and stands on BSDI's 22 years of experience as an established and recognized industry leader.
Visit athleticbusinessconference.com for Expo hours and download ABC's free mobile app which includes a trade show floor map, schedules, social media links, and more. #ABCSanDiego
VISIT BSDI AT BOOTH #928 to speak with an Account Manager and to see The Motivation Alliance Health and Wellness Platform!
ABOUT BSDI: Founded by Dr. Mark Brittingham in 1991, BSDI has been an influential force in health promotion for over 20 years. BSDI's focus on advanced web technologies and sophisticated data analysis has proven attractive to progressive corporate, government, and commercial health and wellness facilities. The Motivation® web portal has become one of the industry's most secure and trusted technologies (HIPAA, HITECH, Section 508, and GINA compliant) and our hosted applications software delivery removes the need for organizations to handle complicated installation, set-up, and site maintenance. BSDI is a 5-time winner of the prestigious Nova7 Award for "Best Computerized Technology Supplier" and continues to be recognized as a cutting-edge industry leader.