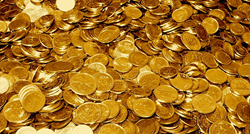 Gold is the undisputed king of value preservation
Atlanta, GA (PRWEB) January 14, 2015
Bitcoin gold dealer Agora Commodities has seen a notable increase in bitcoin to gold transactions since the beginning of 2015 doing over 300k on Jan 13th alone. Among the top reasons for this increase is not from investors getting back in the groove after the holiday season but rather because bitcoin holders are uneasy about short term price stability and are turning to gold as a hedge.
"This is actually relatively standard," notes CEO Joseph Castillo, "gold is the undisputed king of value preservation. We are watching crude oil investors turn to gold to protect their wealth and we see the same from bitcoin holders."
Bitcoin has had a rough year. Exactly one year ago at this time Bitcoin's value was $835 according to coinbase.com. Currently holders are hoping bitcoin has support at $200. Joseph feels there is nothing to worry however, "Every day we have traditional gold and silver investors trading their precious metals for bitcoin."
Agora Commodities is the industry leader in bitcoin to bullion transactions. They have worked closely with Digital Tangible to create the world's first gold/bitcoin real-time trading platform. Watch them closely as they continue to bring the bullion trade into the 21st century.