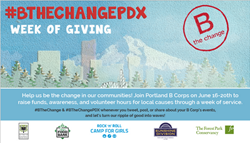 As B Corps, we want to turn our individual ripples of impact into a wave a good for our Portland Community, and the Social Mashup is the perfect way to share our collective story.
Portland, OR (PRWEB) June 16, 2014
This week, Portland-area businesses are calling on the community to "B" The Change and using social media to involve the community, and give back to five local nonprofits.
Rock 'n' Roll Camp for Girls is just one of five nonprofits being supported by Portland-area B Corporations this week. From June 16 through June 20th, cause marketing technology leader CafeGive Social will join forces with other local B Corps for a Week Of Giving through BTheChangePDX. Local B Corps will give back to five causes over the course of the week.
Certified B Corps are part of an international network of over one thousand businesses that believe in using business as a force for good, and that meet a rigorous set of social and environmental standards. In Portland, OR, B Corps are showing their commitment to making the world a better place by donating time, gear or money to The Children's Book Bank, Oregon Food Bank, Rock 'n' Roll Camp for Girls, Sunshine Division, and The Forest Park Conservancy.
To highlight and celebrate each of the daily events, drives, and causes that Portland B Corps are supporting, CafeGive Social launched the #BTheChangePDX Week Of Giving Social Mashup. The company is using its Social Mashup App to collect and share information about giving and volunteer events across all social media channels. Every time B Corps and other participating businesses use the hashtags #BTheChange and #BTheChangePDX throughout the week, each post, share, and tweet will be added to the Week Of Giving Mashup in real time.
The goal of BTheChangePDX is to raise awareness about the collective good that B Corps are doing in the community, and to invite other individuals and businesses to get involved. For even greater impact, partnered B Corps are hosting the embeddable Social Mashup app on their websites so that the message of giving back reaches an even greater audience.
The app turns each post and tweet into shareable tiles, so that they can easily share them to Twitter and Facebook and create even more buzz around the Week Of Giving. The #BTheChangePDX Social Mashup provides an at-a-glance look at the social impact that B Corps have, and the difference that companies can make for their communities when they work together.
Each day of the week, people can see which events, giving opportunities, and local causes are being supported at any given moment by visiting BTheChangePDX. On Thursday, June 19th, CafeGive Social will run a Goods 'n' Gear Drive benefiting Rock 'n' Roll Camp For Girls. The app company will be collecting items from the Camp's wish list from local businesses, including other B Corps, so that young, aspiring musicians will have everything they need for the first day of camp on June 26th. From bass pedals to art supplies, goods and gear donations go a long way to supporting Rock 'n' Roll Camp For Girls' mission to builds girls' self-esteem through music creation and performance.
Businesses and individuals alike that want to donate goods to RNRC4G are encouraged to drop off items to Mississippi Records at 5202 N Albina Ave. before June 19th and to join the conversation by tweeting about their using #BTheChangePDX. Anyone who can't donate goods 'n' gear can still show their support for RnRC4G by donating funds directly at http://www.girlsrockcamp.org/donate/.
Throughout the rest of the week, B Corp events include organized book and clothing drives for the Children's Book Bank and Sunshine Division, and volunteering for Forest Park and the Oregon Food Bank. At each event, participating B Corps will use the Social Mashup to share photos and stories, and help raise excitement and awareness about the essential work of those nonprofits.
"As B Corps, we want to turn our individual ripples of impact into a wave a good for our Portland Community, and the Social Mashup is the perfect way to share our collective story," said Laurie Price, CafeGive Social Co-Founder and B Corp Champion.
About CafeGive Social: CafeGive Social is the only company that combines social media marketing with meaningful, action-oriented cause marketing applications and solutions. Our products and services have helped companies, agencies and nonprofits of all sizes connect with customers to build brand, enhance reputation, and raise awareness and effect social change. Headquartered in Portland, Oregon, CafeGive Social is a privately held company. For more information, visit http://www.cafegive.com.