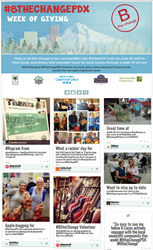 We wanted to use our set of tools and cause marketing experience to help our Portland B Corp community make as much of an impact as possible during the Week of Service.
Portland, OR (PRWEB) June 30, 2014
From gear drives to environmental clean up, Portland-area B Corps created lasting local impact during a Week of Service this June. Certified B Corporations in Portland, Oregon, joined hundreds of other B Corps across the world for a coordinated week of volunteerism and giving back.
From June 16 - 20th, dozens of B Corps, their employees, and communities joined forces to support five local nonprofits: Children's Book Bank, Oregon Food Bank, Rock 'n' Roll Camp for Girls, Sunshine Division, and The Forest Park Conservancy. B Corps are businesses that have met a rigorous set of social and environmental standards, and that are committed to improving the world.
To drive awareness, excitement, and involvement throughout the Week of Service, cause marketing technology leader CafeGive Social launched the #BTheChangePDX Week of Giving Social Mashup. During the week, Portland B Corps used social media hashtags #BTheChangePDX, #BTheChange, and #pdxbcorps to promote giving events and volunteer opportunities, celebrate participants, and encourage people to take part. Every time someone used the hashtags on Facebook and Twitter, the Social Mashup app updated and shared the information in real time. To extend the reach and impact of the campaign, the app converted each post and tweet into shareable tiles, so that viewers could easily circulate stories to their own social networks.
The result is an at-a-glance look at the social impact that Portland B Corps have in their community, and the difference that companies can make for the world when they work together. Each tweet, story, and share represents awareness raised, and volunteer hours and money donated to services and organizations that directly benefit the Portland community.
"We wanted to use our set of tools and cause marketing experience to help our Portland B Corp community make as much of an impact as possible during the Week of Service," said Laurie Price, CafeGive Social Co-Founder and B Corp Champion. Laurie said that CafeGive Social decided to launch the Social Mashup to generate buzz around the Week as well as the greater B Corp movement.
As part of the Week of Service, CafeGive Social organized a Goods 'n' Gear Drive in support of Rock 'n' Roll Camp for Girls - a nonprofit dedicated to building girls' self-esteem through music creation and performance. On June 19th, CafeGive Social picked up donations from other local B Corps, including One PacificCoast Bank, Rosen Convergence Marketing, and Idealist Consulting, and at the end of the day donated over $1,500 worth of goods from RnRC4G's wishlist, including $330 in giftcards, and music equipment like guitars, drumsticks, and a bass. Any businesses that couldn't take part in the drive were encouraged to donate directly at http://www.girlsrockcamp.org/donate.
"I'm thrilled that we were able to donate to the Rock and Roll Camp for Girls," said Ashley Henry, Program Officer at One PacificCoast Bank's One PacificCoast Foundation. "I have admired that organization for so long and think they're doing excellent work helping girls build self-esteem through music!"
"We took part in the gear drive and the volunteer day at Oregon Food Bank, and attended the Elevating Impact summit because we're always looking for ways to help out nonprofits - plus it was a great way to remind our team of our B Corp roots." said Kristen Kippen, Marketing Manager at Idealist Consulting. "As one of the first 100 B Corps it is so exciting to see this movement taking hold locally."
Portland B Corps also organized book and clothing drives for the Children's Book Bank and Sunshine Division, and took part in numerous volunteer events, and actively tweeted, posted, and shared their involvement.
"We fed a few people today," reads one post from Living Room Realty, with a photo showing the impact of the Portland real estate company's volunteerism that day: 51 employees created 21,800 meals for the Oregon Food Bank. The post was shared through the BTheChangePDX Social Mashup, along with posts from other Portland-area B Corps like Rosen Convergence, whose team took part in the Goods 'n' Gear Drive and spent a day helping The Forest Park Conservancy preserve natural habitats.
"It's just part of who we are and what we do," said Richard Rosen, Founder of Rosen Convergence Marketing, about the company's decision to take part in the Week Of Service. "The B Corp Service Day was a wonderful opportunity to give back and to be involved with a community that's out there making a real difference."
Portland Certified B Corporations are part of an international network of over one-thousand businesses that believe in using business as a force for good. For more about B Corps and B Corp certification, visit bcorporation.net.
About CafeGive Social: CafeGive is the only company that combines social media marketing with meaningful, action-oriented cause marketing applications. Using our product, CafeGive Social, we have helped companies, agencies and nonprofits of all sizes connect with customers to build brand, enhance reputation, raise awareness and effect social change. Headquartered in Portland, Oregon, CafeGive is a privately held company. For more information, visit http://www.cafegive.com..