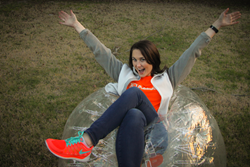 Nashville, Tennessee (PRWEB) January 19, 2016
Bubbleball Inc., the highest quality provider in the U.S., announces its arrival in Nashville with a twist. On January 23rd, from 1 to 3pm CST, E.S. Rose Park & Sports Complex will host BubbleBall's love letter to Nashville: try out the innovative sport for free!
Chelsea DeLoach, head of BubbleBall Nashville, explains what lead her to this decision: "One of my biggest passions is helping people live healthy and fulfilling lives. Before bubbleball, I was tied to a desk all day in an office environment. I decided that I never wanted to work in an office ever again, so I partnered with Bubbleball Inc.! Now instead of being chained to a desk, I'm facilitating this sport that puts huge smiles on so many faces and keeps people active. What could be better than that?"
Some say watching the sport live is the answer to that question. Any game where players are encased inside safe, giant, human air bags - aka bubbleballs - is, at the very least, a sight to see. Participants will be playing bubble soccer played by specific bubble soccer rules. Players will flip, bounce, somersault, and bump in an attempt to score, knocking each other across the playing field and into each other like the giant rotund dominos they are. As hilarious as it is to watch, players agree: it's even more fun to play.
Groups and individuals can now play with BubbleBall in Nashville individually and in private parties. Reservations are available on BubbleBall Nashville's website. Whether it's for a birthday, team building event, bachelor party or to burn off the biscuits and gravy, BubbleBall welcomes Nashville to be the ball with BubbleBall.