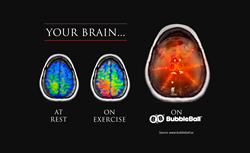 BubbleBall Inc. is tackling the problem of safety and brain injuries in sports head on both through the bubbleballs themselves and through charity.
New York, New York (PRWEB) March 19, 2016
You've seen them bounce. You've seen them play by bubble soccer rules. Now see bubbleballs in a brand new sport. The official rules of bubbleball will debut May 21st, 2016 in a Spring league kick off that will go down in sports history. Companies from Queens to Brooklyn will converge at East River Park to compete, startup against corporation, for the title of "Most Bubbly." You can feel it in the air: this time is different. The stakes are higher. The balls, bouncier.
Some highlights of the new rules: bubbleball is played in quints, 5 intervals during which one hopes to score more than one's opponent in order to win. Three out of the 5 quints must be won to obtain victory. If neither team achieves this within the 5 designated intervals, the match proceeds to sudden death, mano a mano or, (as the case may be) bubbleball to bubbleball. But beware! The fifth quint is double the value, making every play quintessential. For more information visit bubbleball rules.
BubbleBall Inc. is tackling the problem of safety and brain injuries in athletes head-on, both through the bubbleballs themselves and through charity. In the U.S. alone, emergency departments report approximately 2.2 million Traumatic Brain Injury visits each year, leading to more than 280,000 hospitalizations. By donating to The Brain Trauma Foundation BubbleBall hopes to become a true player in the fight against brain trauma from sports. 100% of the donations made throughout the league will fund this cause.
The bubbleball league is live and spots are limited. Early birds will receive 10% off registration until March 31st but teams are advised to rally quickly - only 8 will compete for the title of Most Bubbly and with one team of free agents (25 individuals signing up at $99 a piece) the competition is sure to be fierce, as well as funny. Rosters are minimum 12 and capped at 25 people. League games are scheduled for every other Saturday from 6-8pm in East River Park. Best buckle up, folks. It's going to be a bubbly ride.
About Bubbleball Inc.
-------------------------------
Bubbleball Inc. ("BubbleBall") is the leading U.S. distributor of inflatable bubbleballs and associated products. Determined to bring the joy and safety of bubbleball to the entire country, the company elevated a new industry with its U.S. launch in 2014. It ships products across the country via its online shop at shop.bubbleball.us and is currently developing a national network of highest quality operating partners.