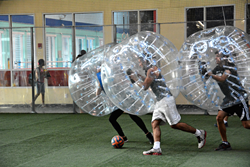 We're excited to be partnering with Next Level. They've got the operational experience, the right space, and dedication to customer service and to high quality experiences that we look for when we vet our partners
Garden Grove, CA (PRWEB) October 28, 2014
BubbleBall Inc., the leading national provider of wearable, inflatable bubble suits in the U.S., announces its arrival in Orange County. What exactly is BubbleBall? Think regular soccer played inside giant, protective, inflatable bubble suits. Fun for all ages, players run, jump, flip, bounce, and bump into each other in a wild attempt to score and knock each other down.
Groups and individuals can play with BubbleBall in Orange County at Next Level Sports Complex in Garden Grove. BubbleBall Inc. is dedicated to creating a positive team environment focused on fun, fitness, and community, and is thrilled to be able to bring its high energy fun to Orange County.
"We're excited to be partnering with Next Level. They've got the operational experience, the right space, and dedication to customer service and to high quality experiences that we look for when we vet our partners." says Mahdad Taheri, CEO of BubbleBall Inc.
Next Level will be open for rentals starting November 1, 2014. Reserve to play BubbleBall games such as Bubble Soccer in Orange County, Zombieball, and Sumo Smash for birthdays, team building events, bachelor parties and more. Nation-wide BubbleBall rental locations will be announced as they roll out.
About BubbleBall Inc.
-------------------------------
BubbleBall Inc. is the leading U.S. distributor of inflatable bubble suits and associated products. Determined to bring the fun and ridiculousness of BubbleBall to the entire country, the company ships purchased products across the U.S. and is currently developing a national distribution network of rental and league partners.
About Next Level Sports Complex
-------------------------------
Next Level Sports Complex offers the premier multi-sport experience in an innovative, championship level sports complex. The state-of-the-art facility features 4 professional turf fields, 11 basketball courts, 14 volleyball courts, and after school and alternative education programs.