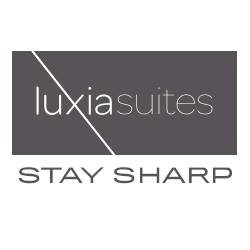 The recent upgrades and re-branding allow us to really focus on client satisfaction and flexibility. Whether you need only a short-term functional stay, or a long-term residential stay, LuxiaSuites can accommodate all of your needs.
Wilmington, DE (PRWEB) May 29, 2014
Previously a member of the national ExecuStay franchise and now re-branded as a standalone operation, LuxiaSuites offers the most spacious furnished accommodations in the area, available for both short-term and long-term stays, and is now fully locally-owned, branded, and operated in Wilmington, Delaware. LuxiaSuites' luxuriously appointed, fully furnished studio, one, and two bedroom apartments are ideal for busy executives, world travelers and those looking for all the privacy and spaciousness one would expect in their own home. In addition, the hospitality services offered put LuxiaSuites far ahead of their competition when it comes to customer service and satisfaction. Standard amenities include concierge service, shuttle service, housekeeping, on-site fitness centers, fully-equipped kitchens, high-speed internet, and premium cable television. All properties are pet-friendly and LuxiaSuites also offers customized billing options.
LuxiaSuites' flagship location, LuxiaSuites City Center, is located in The Nemours building, a Class A commercial office building in downtown Wilmington, and is conveniently located near the city's law firms and corporate headquarters. LuxiaSuites City Center uniquely offers not only standard amenities such as complimentary weekday breakfast, a business center, a fitness room and housekeeping, but also boasts an equipped office suite and war room for visiting business clients' use. The location recently underwent a major upgrade resulting in 54 fully refurbished one and two bedroom units and upgraded finishes in the corridors. On-site amenities at LuxiaSuites City Center include Theater N, Wilmington's independent movie theater, Plexus Fitness, offering Crossfit and Yoga classes, DuPont Printing, convenient for business clients, as well as two on-site restaurants. LuxiaSuites City Center also boasts a White Glove Accommodations Program, a service offered to visiting legal teams that can provide them with not only sleeping accommodations, but additional services such as office space, a personal concierge, and transportation coordination.
"It is important to us to know that we are offering comfortable and contemporary settings for our clients to call home," says LuxiaSuites General Manager, Tamara Holt. "The recent upgrades and re-branding allow us to really focus on client satisfaction and flexibility. Whether you need only a short-term functional stay, or a long-term residential stay, LuxiaSuites can accommodate all of your needs."
LuxiaSuites has furnished apartments at three other locations as well. LuxiaSuites Rodney Square offers 40 apartments in the esteemed Residences at Rodney Square, located in the former Delaware Trust's bank headquarters on Wilmington's historic Market Street. LuxiaSuites Christina Landing offers 18 apartments in the luxury high rise that is The Residences at Christina Landing, towering over the Christina River in Wilmington. LuxiaSuites Justison Landing offers 18 apartments at the popular Residences at Justison Landing nestled amongst the bustling revived Riverfront Wilmington. Additional benefits of a stay at any LuxiaSuites location include a complimentary shuttle to get around town and grocery delivery services to keep your furnished kitchen stocked.
For Wilmington, the expanded presence of LuxiaSuites' corporate-furnished housing community means providing convenient, comfortable and accommodating services to the city's active legal and business community and the visitors it brings to the city. The Buccini/Pollin Group is proud to introduce LuxiaSuites as a local business, serving the city's people and its business partners.
About LuxiaSuites
LuxiaSuites, LLC is the corporate-furnished apartment operations affiliate of The Buccini/Pollin Group, headquartered in Wilmington, DE. LuxiaSuites' flagship City Center location resides in downtown Wilmington and consists of 84 furnished studio, one, and two bedroom units as well as an office suite and a war room. LuxiaSuites also has additional units at three other apartment communities in the city: 40 units at LuxiaSuites Rodney Square on Market Street, 18 units at LuxiaSuites Christina Landing on the riverfront and 18 units at LuxiaSuites Justison Landing also on the Riverfront. LuxiaSuites aims to surpass expectations in customer service, while delivering spacious and inspired furnished monthly residences with hotel services and superb amenities. For more information, or to arrange bookings, please visit http://www.LuxiaSuites.com or call 1.800.205.9210.
About The Buccini/Pollin Group
The Buccini/Pollin Group is a privately-held, full-service real estate acquisition, development and management company with offices in Washington, DC, Wilmington, DE, Philadelphia, PA, and New York City. Since 1993, Buccini/Pollin has developed and acquired hotel, office, residential, sports & entertainment, and retail properties throughout the Mid-Atlantic and Northeast having a value in excess of $4 billion. The Buccini/Pollin group currently has under management or development 26 hotels, 6 million square feet of office and retail space, 10 major residential communities, and multiple entertainment venues, including PPL Park, home of the Philadelphia Union Major League Soccer team. Buccini/Pollin's 2,000 associates make a difference in our communities by supporting over 50 vital charities. For more information, please visit http://www.bpgroup.net.