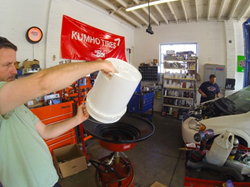 WE'VE GOT A HANDLE ON THAT
Sandusky, OH (PRWEB) September 06, 2016
Bucket Innovations, LLC and Encore Plastics Corporation reached contractual agreement this week, providing Encore with the licensed rights to manufacture and sell plastic utility pails in the U.S. and Canadian retail space featuring Bucket Innovations patented, integrated lower handle technology.
This partnership is the 3rd license agreement Bucket Innovations has completed in the U.S. market over the last 18 months and provides a massive expansion in sales and manufacturing capabilities for the innovative new bucket designs. Though Encore will focus on retail utility pails, they also provide greater production and distribution capabilities for Bucket Innovations national packaging accounts. This new partnership brings BI's manufacturing and distribution footprint up to 7 total facilities in 6 states, spanning from California to Florida.
About Bucket Innovations:
Not since the shift from metal to plastic has there been any good reason to replace a utility bucket, much less a safety reason. We have Broken the Mold (so to speak) with this revolutionary, patented design. Bucket Innovations has accomplished what many in the industry said could not be done. By integrating a molded handle into the bottom of pails, in a one-piece mold design, with competitive costs to traditional designs that does not restrict any current uses or create logistical challenges. Adding this game-changing safety and convenience feature to our products greatly improves efficiency and safety for your employees and customers alike.
About Encore Plastics:
Encore Plastics Corporation offers a wide range of uniquely designed and technically advanced quality products servicing the distribution channels in the paint, hardware and industrial markets covering the entire United States and Canadian territories. Encore products are sold through two-step distribution, automotive, paint, hardware and mass retailers throughout North America.