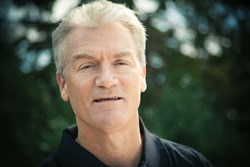 Jim Buckley, noted, 'Mr. Grafton was very pleased with the final result, and that everything met the high expectations he had for the project. He expects nothing but the highest quality for the new facilities, and we're proud we could deliver on that.'
Milwaukee, WI (PRWEB) January 10, 2014
Buckley Fence, LLC is pleased to announce that the second phase of their latest project in Langley, British Columbia is on track to be completed in the coming year. Grafton Horse Park, a new facility that plans to host high-end equestrian competitions, completed the first phase of the project in April using 2,122 feet of Buckley Black Steel Board Fence and 24 of Buckley's 12' Black 4-Rail Steel Board Gates.
Wayne Grafton was charged with the task of overseeing the installation and his sights were set on nothing short of the best quality fencing said Buckley Fence, LLC founder and majority owner Jim Buckley. Mr. Buckley noted, "Mr. Grafton was very pleased with the final result, and that everything met the high expectations he had for the project. He expects nothing but the highest quality for the new facilities, and we're proud we could deliver on that."
The elegant look and durability of Buckley Fence products were also deciding factors for Mr. Grafton. Despite the distance between the two facilities, Mr. Buckley and Mr. Grafton were able to communicate regularly and work out all of the logistics for the massive project, including international delivery that had to meet specific scheduling needs. Shipments for the second phase of the project are currently underway.
Mr. Buckley and his team understand the apprehensions that clients have when it comes to making high-cost decisions on large fencing projects like the one at Grafton Horse Park. For projects that encompass 3,500 feet or more of fencing Buckley Fence, LLC currently offers special discounts and free shipping to offset costs. They have seen a strong response from large clients that are eager to take part in the cost-reducing program.
To learn more about Buckley Fence, LLC and their latest projects, please visit: http://www.buckleyfence.com.
About Buckley Fence, LLC
Buckley Fence, LLC is focused on helping property owners make a long-term investment not a short-term solution for their fencing needs. Their high quality horse fences use the latest techniques and materials that are proven to be safer for animals and durable enough to last for years. Buckley Fence has created the Buckley Steel Board Fence, a post and rail fencing system using an environmentally friendly metal that will last at least 25-50 years.