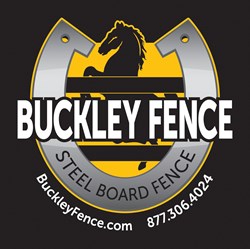 Jim Buckley, owner and inventor of Buckley Fence, LLC said, "we're very excited that Hacienda Las Delicias found our products to be the best option for their project. It is a massive undertaking that opens up our business to all over South America..."
Milwaukee, WI (PRWEB) December 14, 2013
This summer marked the beginning of Buckley Fence, LLC's first project in Panama. After careful deliberation the board at Hacienda Las Delicias selected Buckley Black 3-rail Steel Board Fence and Steel Board Gates for a major project that consisted of more than 3,600 feet of fencing.
Hacienda Las Delicias is a luxury community and resort near Panama City, Panama that boasts impressive stables. The President of Hacienda Las Delicias, Nelly Healy, reached out to Buckley Fence to request samples, which made her all the more certain she had found the right fencing supplier. The project included the replacement of existing fencing as well as the creation of new pastures that would fit the beautiful aesthetic of the resort.
Jim Buckley, owner and inventor of Buckley Fence, LLC said, "we're very excited that Hacienda Las Delicias found our products to be the best option for their project. It is a massive undertaking that opens up our business to customers all over South America."
Mr. Buckley communicated with Ms. Healy every step of the way on fence construction and product selection to guarantee the best results possible. When it came time to ship the materials Buckle Fence's international shipping experience and specially designed crates ensured that everything arrived safely.
The installation was handled by GHW Real Estate, Inc. and Buckley Fence will be sharing photos of the project their website once it's completed. To learn more about Buckley Fence LLCand their latest projects, please visit: http://www.buckleyfence.com/.
About Buckley Fence, LLC
Buckley Fence, LLC is focused on helping property owners make a long-term investment not a short-term solution for their fencing needs. Their high quality horse fences use the latest techniques and materials that are proven to be safer for animals and durable enough to last for years. Buckley Fence has created the Buckley Steel Board Fence, a post and rail fencing system using an environmentally friendly metal that will last at least 25-50 years.