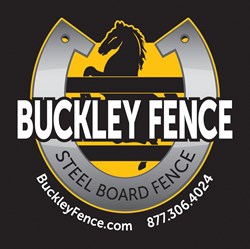 Owner Jim Buckley explains that, "the fence was designed to curve rather than use corners, making maintenance easier and eliminating the chance of the horses getting backed into a cramped space."
Milwaukee, WI (PRWEB) October 22, 2013
Buckley Fence, LLC takes pride in every installation they make. None is more prominent than the Wangard installation, which is featured on the home page of their website. Installed in Oconomowoc, WI, not far from the Buckley Fence, LLC headquarters, the Wangard installation is the perfect showcase for what the company is capable of creating.
The Wangard installation was a completely new construction on a recently procured property that spanned 2,100 feet in total. The Wangard's came to Buckley Fence because they wanted a sizeable encasement for their three Icelandic Geldings that was not only durable but also safe for their horses. A system like the Buckley Steel Board Horse Fence was actually recommended by their veterinarian due to the fact that the steel boards will flex and give when the horses bump into it.
How the fence was constructed also added to the safety. Owner Jim Buckley explains that, "the fence was designed to curve rather than use corners, making maintenance easier and eliminating the chance of the horses getting backed into a cramped space." This ease of maintenance was another benefit that the Wangards have come to appreciate. They say that it requires very little upkeep, giving them more time to enjoy their horses.
Beyond safety and durability the Wangards said they choose to use a Buckley Steel Board Horse Fence because of the curb appeal. Neighbors and guests continually comment on the attractiveness of the fence and are amazed to learn that it's made with recycled steel. From the layout to the look and feel, both the horses and the homeowners are enjoying the enclosure.
For more installation stories and information, connect with Buckley Fence, LLC by visiting their Facebook, YouTube, Pinterest, Twitter, Google+ or LinkedIn accounts.
About Buckley Fence, LLC
Buckley Fence, LLC is focused on helping property owners make a long-term investment not a short-term solution for their fencing needs. Their high quality horse fences use the latest techniques and materials that are proven to be safer for animals and durable enough to last for years. Buckley Fence has created the Buckley Steel Board Fence, a post and rail fencing system using an environmentally friendly metal that will last at least 25-50 years.