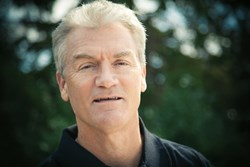 Jim Buckley, inventor and owner of Buckley Fence, LLC said, 'Our customers are located all around the world, so how the products are represented online makes a huge impact on our business. The new design provides a much better look at our product line.'
Milwaukee, WI (PRWEB) January 21, 2014
Buckley Fence, LLC has put substantial time and energy into creating the world's most innovative horse fencing systems, and now their newly redesigned website is showing them off. The company recently unveiled their new website, which has been updated with a wide screen layout, simplified navigation and significantly more images and videos featuring their eco-friendly products.
Jim Buckley, the inventor and owner of Buckley Fence, LLC said, "Our customers are located all around the world, so how the products are represented online makes a huge impact on our business. The new website design is much more visually interesting than the previous one, and it provides a much better look at our product line."
The revamped website has put more emphasis on videos of the Buckley Fence LLC product lines, as well as stunning images of the Black, White and Custom-Color Steel Board Horse Fencing. There are also new photos of the complete product line including the company's Steel Board Gates and Gate Latches, with particular focus being put on the Buckley EZ Latch Gate Latch, which fits more gates and is easy to use from horseback or the ground when leading a horse.
Another noticeable change is the addition of Pinterest, Google+ and LinkedIn social media options, making it easier for visitors to connect with the company. Because Buckley Fence, LLC is not always able interact with clients face-to-face, the company says it has put more effort into opening up the lines of communication online and showcasing testimonials from past clients in hopes of providing visitors with a closer look at what Buckley Fence, LLC has to offer.
To see the new Buckley Fence website and learn more about their latest projects, please visit: http://www.buckleyfence.com.
About Buckley Fence, LLC
Buckley Fence, LLC is focused on helping property owners make a long-term investment not a short-term solution for their fencing needs. Their high quality horse fences use the latest techniques and materials that are proven to be safer for animals and durable enough to last for years. Buckley Fence has created the Buckley Steel Board Fence, a post and rail fencing system using an environmentally friendly metal that will last at least 25-50 years.