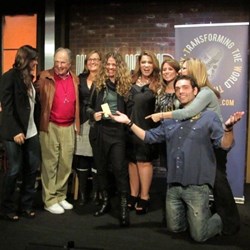 We are so honored to recognize Budd Friedman who has been a trailblazer for good in the comedy industry for decades. - Liz H Kelly, Goody Awards Founder
Santa Monica, CA (PRWEB) October 31, 2013
The Goody Awards and Comedy Gives Back will honor The Improv Founder Budd Friedman (81) with a Golden Goody Award at Comedy Gives Back's Nov 6th global standup comedy event. This lifetime achievement award will be presented to Budd Friedman at What's Trending Studio on Wednesday afternoon in Hollywood that will be part of this 24-hr livestream event on Dailymotion.
This Comedy Gives Back event will also feature live standup comedy shows in Los Angeles (Budd Friedman will also be at the Hollywood Improv show at 8pm), NYC, London, and Sydney to benefit Malaria No More. Anyone can attend and buy tickets here http://comedygivesback.com/tickets/.
Legendary businessman, producer and actor Budd Friedman is best known as the founder and original proprietor and MC of the Improvisation Comedy Club, which opened in 1963, on West 44th Street in the Hell's Kitchen neighborhood of Manhattan. Actor/manager Mark Lonow became Friedman's partner 25 years ago and together they licensed Improv Comedy Clubs in 25 U.S. cities. The Improv is now celebrating its 50th Anniversary.
Goody Awards Founder Liz H Kelly shared, "We are so honored to recognize Budd Friedman who has been a trailblazer for good in the comedy industry. Not only has he launched the careers of countless comedians, but he has consistently supported charities for decades."
Mr. Friedman supported the last Comedy Gives Back event in 2011, and his comedy clubs have been healing fans for decades through laughter. Along with founding The Improv, Budd was instrumental in launching the comedy careers of comedy legends such as Rodney Dangerfield, Richard Lewis, Robert Klein, Jay Leno, Andy Kaufman, Freddi Prinze, Steve Landesberg, and Jimmie Walker, amongst many others.
This special Comedy Gives Back event will include two live shows at the Hollywood Improv, along with shows in New York City (Gotham Comedy Club), London (Leicester Square Theatre) and Sydney, Australia (The Comedy Store). Comedians Dane Cook, Kevin Nealon, Retta, Rove McManus and more will be performing live at The Hollywood Improv for this tentpole event, and anyone can buy tickets or donate online to support Malaria No More.
In addition to this special Golden Goody Award for Budd Friedman, comedians who have donated their time to this Comedy Gives Back event will receive Hero Goody necklaces from the Goody Awards. This "Tag Good" product represents global citizens who are inspiring positive change.
Confirmed talent to date for the Nov 6th Comedy Gives Back event includes: Los Angeles (Rove McManus, Aisha Tyler, Kevin Nealon, Dane Cook, Marc Maron, Dana Gould, and at 10pm Garfunkle and Oates, Iliza Shlesinger, Neal Brennan, and Ian Karmel, Michael Yo), New York (Jim Breuer, Eugene Mirman, Maria Bamford), London (Adam Hills, Adam Bloom, Stephen K. Amos, Lloyd Langford, Tom Stade, Pete Johansson), and Sydney (Harley Breen, Ronny Chieng, Axis of Awesome, Tahir, Dave Eastgate, Tom Ballard).
Event Partners
Dailymotion, IFC, Variety, The Standard Hotel - Downtown LA, What's Trending, Virgin Produced, Team Coco, LaughStub, New York Comedy Festival, Sideshow Network, Earwolf, College Humor, Good, Cracked.com, Comedy Juice, Rooftop Comedy, Fullscreen, Abominable Pictures, Comedy Bang Bang, Cohen Gardner LLP, Blue Collar Entertainment, Match Entertainment, Anheuser-Busch, Neuro, and Slim Jims.
About Goody Awards
Goody Awards™ facilitates Social Good Awards via social media, special awards and cause marketing campaigns, similar to the million$ advertising campaigns that we managed while working for Fox Interactive Media/MySpace. We're using our marketing skills to reinforce good through multiple recognition channels. Anyone can tweet a Goody Award nomination anytime to tag good and compete for Goody Awards of the Month and Year online. The Goody Awards also specializes in developing cause marketing campaigns tied to special awards to bring attention to important causes and social good leaders. Follow @GoodyAwards http://goodyawards.com.
About Comedy Gives Back
Comedy Gives Back is a social benefit enterprise uniting traditional and digital native comics across various platforms to raise money for good causes. In its second year, Comedy Gives Back's annual tent-pole event is a 24-hour global live streamed comedy extravaganza that will raise money for charity. @ComedyGivesBack is the social enterprise brainchild of Amber J. Lawson, Zoe Friedman and Jodi Lieberman. This year's charity partner is Malaria No More. http://comedygivesback.com