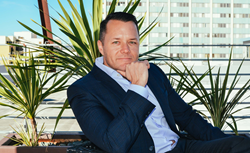 Santa Monica, California (PRWEB) January 09, 2015
Buddytruk Inc., known as "the Uber of bulky item moving and delivery," has completed its second seed round, raising $570K. Investor Zack Schuler, the founder and former CEO of Cal Net Technology Group, led the round. Schuler built Los Angeles-based Cal Net into an almost $20M IT services business before his exit in October of 2013 to a private equity firm. Buddytruk has named Schuler Chairman and Chief Strategy Officer. His primary focus will be on this investment, bringing his business acumen, connections and passion to Buddytruk.
"I'm thrilled to be joining such an amazing team, headed by CEO Brian Foley, for this next stage of my career. Aside from Buddytruk being a great idea, it is built [by] a great team who knows how to execute," says Schuler. "It is the perfect formula for the beginning of a scalable and massive business."
Along with Schuler, Buddytruk investors include: Zalmi Duchman (Founder of The Fresh Diet), David Schottenstein (Founder of Astor and Black, Forbes 30 under 30), DRH Investments, and Matt Toledo (Publisher and CEO of Los Angeles Business Journal).
"The team is very excited to be partnering with such knowledgeable and experienced personnel," says Buddytruk CEO Brian Foley. "Not all capital is created equally, and we're excited to have been supported by proven entrepreneurs themselves; people who have successfully built, run and sold businesses in the past. I think it's every entrepreneur's dream to be funded by other entrepreneurs. It really gives us a lot of validation around our business model, our team, and our go-to-market strategy."