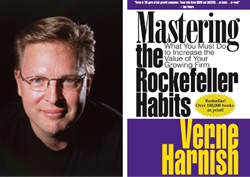 "I've visited a large number of EO chapters throughout the world and I think I've found the most business savvy of them all - Western NY (Buffalo and Rochester)." - Verne Harnish, Author of Mastering the Rockefeller Habits
Buffalo, NY (PRWEB) June 13, 2014
Verne Harnish recently acknowledged the success of EO Western New York companies throughout Buffalo and Rochester due to their CEO's focus on specialized marketplaces.
"I've visited a large number of EO chapters throughout the world and I think I've found the most business savvy of them all - Western NY (Buffalo and Rochester). The EO members in that chapter get it - they are building "hidden champions" - growing companies focused on hyper-specialized niches and then chasing a select group of customers around the globe," said Harnish.
Over the past 30 years Verne Harnish founded Entrepreneurs' Organization (EO) - the global network of influential entrepreneurs, founded Gazelles - an executive training and coaching company, wrote the influential Mastering the Rockefeller Habits book endorsed by CEO's worldwide, and is a syndicated columnist printed in magazines such as Fortune.
Ben Sayers, VoIP Supply CEO and member of EO Western New York, explains that "The recognition from Harnish is a great achievment for EO Western New York because it's based on his vast experience helping CEO's grow their companies and learn leaderships skills."
EO was founded in 1987 with an educational vision carried out by each chapter around the world that brings entrepreneurial members together, so that they can learn and grow from one another in both their work and personal lives.
EO Western New York currently has 48 member companies that employ over 1,200 people.
This is a remarkable time to be a growing company in Western New York. The hyper-focus impression area businesses made on Harnish coincides with the 43North startup competition offering $5 million in cash prizes, incubator space, and mentorship to winning business ideas with the agreement to operate their new business in Buffalo, NY.
43North is part of New York Governor Andrew Cuomo's Buffalo Billion initiative to develop new economic opportunities in Buffalo and Western New York.
Harnish pointed out some of the positive examples of established EO Western New York companies and their CEO's such as:

Amy Castronova, CEO of Novatek Communications: Creates technical and process documentation and training specifically for medical device companies.
David Mammano, Founder of Next Step Education Group Founder: Helping high school students, parents, and counselors figure out post-graduation options.
David Rivers, Founder of KegWorks: The #1 website in the world providing equipment and supplies for home bars.
Brian Brault, CEO of PURE: Focused on providing processes and technologies to create the cleanest hotel rooms in the world.
Michael Linehan, Premier Laser Spa founder: expanding across the entire east coast of the US.
Harnish says the laser focus and expansion of EO Western New York companies can be attributed to "the lack of a local market and growing up around firms like Kodak."
For more information about VoIP Supply and EO, call 800-398-8647.
About Entrepreneurs' Organization
The Entrepreneurs' Organization (EO) - for entrepreneurs only - is a dynamic, global network of more than 9,500 business owners in 40 countries. Founded in 1987 by a group of young entrepreneurs, EO is the catalyst that enables entrepreneurs to learn and grow from each other, leading to greater business success and an enriched personal life.
About VoIP Supply
We are a place of uncovering, cultivating and developing leaders. A world class place to work with big goals, a clear vision, defined purpose and a dedicated team of passionate business professionals. We love what we do and do it better than any of our competition.
Since 2002, VoIP Supply has been the leading supplier of VoIP equipment and complete VoIP solutions in North America. We are known in the industry as responsive and knowledgeable VoIP product experts.
With everything you need for VoIP, VoIP Supply has grown rapidly throughout the years. VoIP Supply is a three-time Inc. 500/5000 honoree, listed by Business First as one of WNY's Most Admired Companies, as well as one of Western New York's Best Places to Work for many consecutive years, including 2012. VoIP Supply is also the first Certified B Corporation in Western New York.