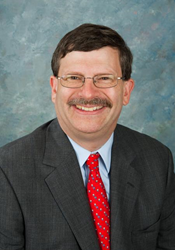 The Center of the West is truly a national treasure.
CODY, Wyo. (PRWEB) October 12, 2018
As he's set to launch his tenure at the Buffalo Bill Center of the West, new Executive Director/CEO, Peter S. Seibert, says that "the Center is truly a national treasure. It has superb collections, world-class staff, and an abiding commitment to telling the story of the American West. For these reasons, and many more, I am thrilled to become the Center's next Executive Director."
Joining Seibert in the move to Cody is his wife, Kim, and their 10-year-old daughter, Mary, a fifth grader who enjoys science and math and "swears she will never be a historian," Seibert says. Daughter Jane, age 19, is a sophomore history/art major at Susquehanna University in Selinsgrove, Pennsylvania. "In the coming months, our family is looking forward to becoming part of the Cody community," Seibert adds. "We're anxious to meet folks and participate in the life of the town."
SEARCH PROCESS:
Seibert was chosen after a lengthy, comprehensive, and far-reaching nationwide search. He replaces the retiring Bruce Eldredge who has served as the Center's executive director since January 2008.
"I am so pleased with the hard work of the Center's Selection Committee," explains Barron Collier II, the Center's Chairman of the Board of Trustees. "We are in a time of transition, and we look forward to exciting growth under Peter's leadership."
"During the interview process, I was truly impressed by the commitment of the Board, staff, and community to the museum," Seibert continues. "Their leadership is so important to me as we plan for the future of the Center of the West.
Seibert's career has been dedicated to public history, museums, and education with more than 30 years-experience in those organizations—holding diverse positions from executive director, educator, and curator to faculty member, author, archivist, and board member. "I believe it is vital to blend passion for what you do with great content knowledge," Seibert observes. "You must also have the ability to not only manage, but to be a visionary for an organization."
CAREER:
Seibert says his museum career actually began in junior high school as a costumed interpreter at the Fort Hunter Mansion, a historic house museum located near Harrisburg, Pennsylvania, his hometown.
In addition to his current position at Colonial Williamsburg, Seibert also served as the organization's Director of the Department of Historic Trades and Skills. Prior to his tenure in Virginia, Seibert directed the Millicent Rogers Museum in Taos, New Mexico, which houses a large collection of Native American, Hispanic, and Anglo-American art, with a specific emphasis on northern New Mexico and Taos, works.
Moreover, Seibert's career includes posts directing the National Council for History Education, and the Heritage Center of Lancaster County and the Historical Society of Dauphin County—both in Pennsylvania. Early in his professional work, he was Associate Curator for Photography at Fort Hunter Mansion, and then Curator with the Cumberland County Historical Society (PA). He's also served as an adjunct professor teaching folklore and popular culture classes for the Pennsylvania College of Art and Design and is part of numerous boards and organizations, both in his career and in his community.
Seibert holds both a bachelor's degree and a master's degree in American Studies from Penn State University and has authored two books: "How We Lived" (2001), which focuses on everyday interiors from 1880 to 1950, and "Fraternally Yours" (2012), which tells the story of fraternal societies in America through their regalia. A prolific writer and speaker, Seibert has tackled many diverse topics in the fields of material culture, folklore, and popular culture.
GOALS:
Seibert arrives in Cody in late November just in time for the Center's annual Holiday Open House on December 1.
"My immediate goals at the Center of the West include finishing projects already in process, working with leadership to continue understanding the interests of our visitors, and positioning the museum as a thought leader in the study of the American West," Seibert concludes, "and I can't wait to get started!"
Since 1917, the award-winning Buffalo Bill Center of the West in Cody, Wyoming, has devoted itself to sharing the story of the authentic American West. The Center, an affiliate of the Smithsonian Institution, is now in its fall schedule, open daily, 8 a.m. – 5 p.m. For additional information, visit the Center's website or its pages on Facebook, Instagram, and Twitter.