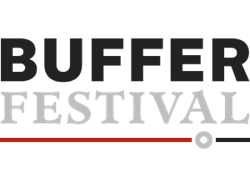 'Sharing our favourite YouTube videos with friends and family is something we delight in, and with Buffer Festival that experience gets magnified by the cinematic power of the big screen.' - Corey Vidal
Toronto, ON (PRWEB) June 18, 2014
Buffer Festival is returning to downtown Toronto this October after a successful first run in the city's Entertainment District last year. The 3-day event, done in partnership with YouTube and co-produced by the Canadian Film Centre, was a major success that saw over 5,000 tickets sold. Attendees viewed YouTube's latest and greatest content up on the big screen in theatres that included the TIFF Bell Lightbox, Scotiabank Theatre, Glenn Gould Studio, CN Tower Maple Leaf Cinema, and the Jane Mallett Theatre.
This year's festival will take place from Friday, October 17th to Sunday, October 19th, 2014 with over 40 unique theatrical screenings, each 90 minutes in length. World-renowned internet video directors, entertainers, vloggers, and personalities will host and showcase an array of YouTube's highest quality content in a cinematic setting. The festival offers two types of presentations: "genre" screenings that highlight YouTube content across a common theme (examples: viral videos, science & education, short films), and "creator" screenings that showcase bodies of work from individual YouTube creators (examples: Shay Carl, WheezyWaiter, MattG124).
The festival schedule and list of attending YouTube stars will be continually updated over the coming months (available on http://www.bufferfestival.com) with over 100 YouTubers anticipated, but here's a quick look at the most prominent guests attending:
Shay Carl (Shaytards)
Jack and Finn Harries (JacksGap)
Rhett & Link (RhettandLink)
AsapSCIENCE (AsapSCIENCE)
Charlie McDonnell (charlieissocoollike)
Shawna Howson (Nanalew)
Jack Douglass (jacksfilms)
Jenn McAllister (jennxpenn)
Michael Buckley (buckhollywood)
Sawyer Hartman (sawyerhartman)
and much more...
New this year, aspiring videomakers from all over the world will have the opportunity to be featured in the Toronto-based festival. Unreleased digital short films can be submitted to the festival until July 31st, with the selected videos being presented at a special premiere screening Sunday, October 19th. Rules and regulations for submissions can be found online at http://www.bufferfestival.com.
"I am thrilled to bring a new year of YouTube's best videos and videomakers to theatres in Toronto. Sharing our favourite YouTube videos with friends and family is something we delight in, and with Buffer Festival that experience gets magnified by the cinematic power of the big screen. With the success of last year's event, we're able to expand our theatres, premieres, YouTube guests, meetups, and a lot more. I couldn't be more excited," said Corey Vidal, Creative Director and Founder of Buffer Festival and President of ApprenticeA Productions.
The festival is presented by ApprenticeA Productions, with a variety of partners from leading companies and brands invested in the new era of digital video, including: YouTube, Canon Canada, Blue Ant Media, JUST EAT, Tim Hortons, and Cineplex.
Pre-sale ticket packages are available for purchase now through the event website (http://www.bufferfestival.com) and are priced at $15 per screening, with priority seat selection included at no additional cost. General ticket sales begin August 19th, 2014.
About Buffer Festival
Buffer Festival is a publicly attended theatrical showcase that presents digital video content from the most prominent creators on YouTube. Held from Friday, October 17th to Sunday, October 19th, the festival will showcase an array of YouTube's highest quality content during 90-minute theatrical screenings, as well as host meetups, interviews, fan events, and a special gala red carpet and gala premiere. For more information, visit http://www.bufferfestival.com.
About ApprenticeA Productions
ApprenticeA Productions is a digital video production company owned by director Corey Vidal that harnesses the viral nature of YouTube, social media, and online sharing. ApprenticeA has created YouTube content for over a dozen Fortune 500 companies, has produced over 1500 YouTube videos, and has amassed over 100 million video views online.
Contact
Buffer Festival Press Room
press(at)bufferfestival(dot)com