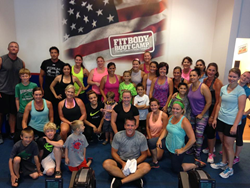 Buford Fit Body Boot Camp has been voted the best place to workout in all of Gwinnett County
Buford, Ga. (PRWEB) June 16, 2015
Every year, along with restaurants, downtown areas, parks, and cultural centers, the Gwinnet Daily Post asks Gwinnett residents to vote for their favorite and most effective weight loss centers. For 2015, Buford Fit Body Boot Camp has been voted the best place to workout in all of Gwinnett County.
This outpouring of community support stands as testament the effectiveness of the boot camp fitness program and its staff's dedication to helping local residents accomplish their fitness and fat loss goals.
Fit Body Boot Camp is the fastest growing and most popular indoor boot camp franchise in the world with hundreds of locations worldwide. The unique fitness brand combines individualized training from certified personal trainers, specially created Afterburn workouts, and personalized nutritional guidance to help clients lose weight, gain muscle, and burn excess body fat.
Buford Fit Body Boot Camp is owned by local fitness expert Shay Diggs. With 12 years experience training in a multitude of different gyms and fitness centers, his expertise and qualifications have manifested in his boot camp's recent success.
"I feel extremely honored," said Diggs, "to have been chosen by my clients and community members— these are the people I care about most. This award tells me that the surrounding community has embraced and loves our brand of fitness. It's incredible to know that so many people see Buford Fit Body Boot Camp as the best possible choice for learning how to live a healthy lifestyle and lose weight."
Last year's winner, No Excuses Crossfit, was expected to renew its title as best fitness center in the area. Yet only six months after opening in December of 2014, Buford Fit Body Boot Camp has established itself and the newest and best place to workout in all of Gwinnett County.
About Buford Fit Body Boot Camp:
Buford Fit Body Boot Camp is a part of the Fit Body Boot Camp family of indoor fitness boot camps, whose global goal is to engage 20% of the world's population in a healthy and fit lifestyle by the year 2020. Buford Fit Body Boot Camp is owned and operated by Shay Diggs. Diggs is committed to helping members of the Gwinnett community set and accomplish their own health and fitness goals.
For more information about Buford Fit Body Boot Camp, please call:
(770) 547-9501
Visit their website at:
http://www.fitbodybootcamp.com/bufordfitnessbootcamp/
Or their Facebook page at:
https://www.facebook.com/bufordfitbodybootcamp