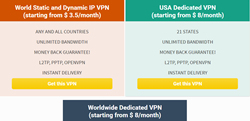 The most realiable, fastest and secure way to the Internet.
Worldwide (PRWEB) March 04, 2015
Today, Bugatti VPN announces the launch of its virtual private networks at http://www.bugattivpn.com. The service provides static, dynamic and dedicated VPNs to Internet users around the world with prices starting from $3.99 per month to $28 per year.
"Our aim is to provide the fastest, most reliable and securest way to access and surf the Internet World," said Richard Walker, Bugatti VPN CEO.
A new startup company, its founders noticed a shortage of economical VPNs available for Internet users. Their goal is to solve this shortage by providing multiple types of VPNs, each fast, affordable, and secure. They have partnered with many companies, such as NameCheap and WHMCS, to guarantee the best quality.
"It is Internet security made simple," COO Jeff Harris said.
VPNs protect users from online threats by extending a private network across the Internet. Bugatti VPN likens home or office networks to secure strongholds where built-in security measures provide protection from viruses and malware. In essence, a VPN serves as a tunnel, connecting the stronghold to the Internet without opening one's computer up to the associated risks and dangers.
This tunnel offers unrestricted access to the web, breaking users away from filtered Internet, throttled speeds and disabled services. It also allows users to change their DNS server, hiding identities and making it impossible for hackers to break into connections and capture important information.
For Internet surfers living in countries with restricted Internet access, Bugatti VPN's networks furnish the opportunity to alter IP addresses, granting users access to content from Google, YouTube, Facebook, Twitter and other potentially blocked websites. The service grants confidential access to P2P file sharing services, VoIP applications and download portals as well.
Travelers are often required to access the Internet using public Wi-Fi, whether at hotels, restaurants or coffee shops. These all-access networks can threaten online security and are the online equivalent of letting anyone spy what you are doing over your shoulder. Using a 2048-bit, double SSL encryption, Bugatti VPN's secure service affords personal protection over unsecure public hotspots, the kind of protection that no brute force attack can crack.
While Bugatti VPN offers several types of VPNs, it notes that shared VPNs can still be vulnerable since whoever is on the data stream can access the information of others. As such, the company offers dedicated VPNs, providing the most secure way to surf the Internet.
For more information, please visit http://www.bugattivpn.com or visit the company on Facebook and Twitter.
About Bugatti VPN
Bugatti VPN's team of IT experts, online security professionals and internet gurus work together to provide the most secure web surfing experience available in the world. It is the leading VPN provider, providing users with military-grade protection and unrestricted freedom in surfing and web consumption. User logs don't exist for the company as its server location is in Panama, where data retention laws don't exist.
The company allows several logins per user—including tablets, laptops, smartphones and desktop computers. All activity is encrypted and protected—so just keep using the Internet. Services have no bandwidth limits and can support PCs, Macs, iPads, tablets, iPhones, Windows phones, Android phones, Blackberry phones and even open-source computer systems.
The activities of anyone subscribed to Bugatti VPN's services are completely safe.