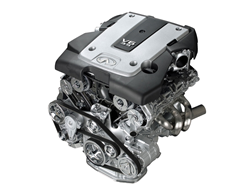 The regular V6 and the 3800 series I and II editions are now showcased from our web inventory that consumers have access to buy this year
Midland, TX (PRWEB) April 28, 2015
The Powertrain Guys company is now adding Buick LeSabre 3.8L engines to its used inventory to help automobile owners find inventory at http://powertrainguys.com/buick-lesabre-3-8-engine.
The authentic Buick motor blocks that are now listed for sale are preowned builds that have been removed from salvaged automobiles. The units that are available fit into the B, H and G platform sedans that were built between the 1975 and 2005 production years. Consumers buying these models will find that each build is compatible with the 3 and 4-speed automatic gearboxes in Buick vehicles.
"The regular V6 and the 3800 series I and II editions are now showcased from our web inventory that consumers have access to buy this year," said one Powertrain Guys specialist.
The LeSabre is one legacy vehicle brand that the PTG company is now supporting for American consumers. Additional car models from General Motors that have been recently terminated can be searched for replacement motors at the PowertrainGuys.com website. A sale price is one of the multiple incentives being supplied to all buyers.
"The Buick, Oldsmobile and Saturn brands that are no longer being produced can be searched for engine displacement types in our updated inventory," said the specialist.
The Powertrain Guys company is now helping to process orders from its website and offline telephone system for consumers. The installation of the web ordering system this month should simplify the way that motors are compared and purchased. Consumers who appreciate offline customer service can still call 1-866-320-1065 for immediate assistance.
About PowertrainGuys.com
The PowertrainGuys.com company supports sales and service for automobile gearboxes, used engines and other top components. The company opened its website in the year 2013 and has quickly earned a loyal following. The PowertrainGuys.com company offers one of the longest and most respected warranty plans for its for sale inventory that can be found through a secondary market retailer.