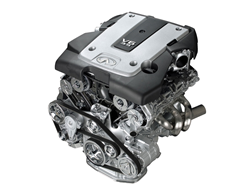 Our used Regal GS 2.0-liter engine inventory has been acquired through our internal buying team that has secured relationships with top parts suppliers in the USA
Birmingham, AL (PRWEB) July 21, 2015
The relaunched Buick series by the General Motors series has helped attract more car buyers who appreciate turbo powered engines in the U.S. market. The Got Engines company is now retailing several new types of blocks for retail sale including the Buick Regal LHU engines for GS vehicles. Details about this used inventory can be explored at http://www.gotengines.com/blog/buick/regal-gs-engine-lhu.
The editions that are now in stock are the 2.0-liter turbo builds that were first produced in the 2012 year. These units feature 259 horsepower and are a DOHC design. The Gran Sport series from Buick has remained a popular trim package, and the Got Engines company inventory is expected to help fill voids in some markets where the GS builds cannot be found.
"Our used Regal GS 2.0-liter engine inventory has been acquired through our internal buying team that has secured relationships with top parts suppliers in the USA," said a GotEngines.com rep.
Consumers who purchase used motor vehicle parts from web sellers can often experience one or more problems with compatibility with existing components. The Got Engines company has devised new testing procedures that are helping to eliminate any potential issues during a motor swap. The GS builds now for sale have already been tested with both the stick-shift and automatic Aisin transmissions.
"The E85 enabled blocks that we are selling as used are under the full support of our warranty control program for consumers," said the rep.
Terms of sale have also been updated to provide a better understanding for consumers who buy used automobile engines online from the Got Engines company. The new terms can be explored at http://www.gotengines.com/terms.html, and this page will be revised as new terms are added.
About GotEngines.com
The GotEngines.com company supports the second hand components industry with sales of automotive engines through its portal on the Internet. The company is one of the top sellers of car parts in the United States. The GotEngines.com company provides consumers with support solutions both offline and through the Internet once sales are processed.