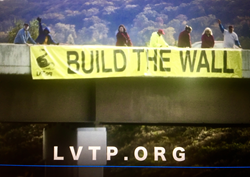 Build The Wall ! Donald Trump 2015
ALLENTOWN, Pa. (PRWEB) November 04, 2018
The Lehigh Valley Tea Party has just successfully unfurled a huge Build The Wall Banner on Pennsylvania Interstate 78 overpass to bring awareness of the  effects of unchecked immigration in America.
America is under attack! The Globalist Left, wants to turn our Nation into a third world country by pushing for unrestricted alien immigration, ill thought H1 Visa programs and encouraging Sanctuary City status. The Lehigh Valley Tea Party http://www.lvtp.org/ wants to remind all that illegal immigration is a crime. 
There should be no amnesty for illegal immigrants, nor sanctuary cities.  We support a secure border with walls. We are proud of our Immigration and Customs Enforcement services. DACHA and diversity chain migration weaken our nation. We support immigration but only when it does not compromise our national security, our culture and economic prosperity. Prospective citizens must be well vetted. English is the American language.
The Lehigh Valley Project 9-12/Tea Party Group's mission is to educate the public. http://www.lvtp.org/ We believe, as our Founders did, that a free nation must have an engaged citizenry who are aware and educated on the issues. Our main goal is to restore a fervent awareness of the precious, inalienable rights of American citizens as outlined in the Declaration of Independence and the U.S. Constitution. The real solutions to our country's problems will come from We the People, not the government, or the "right" elected official(s).
Those involved in the Tea Party are watchdogs, focused on reigning in our bloated, out-of-control government at all levels–federal, state and local(school board, township and county). The irresponsible fiscal policies of our government and its ever-growing intrusion into the everyday lives of citizens imperil all of our liberties.  Unrestricted immigration drastically effects our economy.
Regardless of which political party holds the majority, a class of ruling elites has taken it upon themselves to decide what is best for the rest of us because they feel we are incapable of doing so.  They believe, unlike our Founders, that it is the duty of government to take care of every aspect of its citizens' lives, and to provide economic rights such as a job, a house, and a free education at the expense of others. The social engineering by these global elites have dire consequences. We at LVTP http://www.lvtp.org/ need your support.
Despite what you see and hear from the main stream media, the Tea Party is not an actual political party, and is not a top-down, national organization. Every Tea Party is a localized, independent "Laboratory of Liberty" consisting of citizens, many of whom have never before been politically active. The four main rallying points of virtually every Tea Party group across America are limited government, lower taxes, responsible economic policy and individual liberty. A responsible immigration policy accomplishes these goals.
It's time for you to step up and take the torch of liberty.
Join the Lehigh Valley Tea Party today. http://www.lvtp.org/