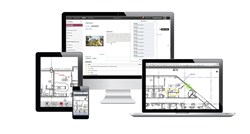 Now that so many construction workers are carrying smartphones and tablets, empowering teams with the right mobile tools will be very powerful.
Seattle, WA (PRWEB) August 08, 2013
BuildersCloud, the Bellevue-based company that provides file-sharing and mobile collaboration for construction professionals, has released its fundraising results after a six month campaign in Silicon Valley and the Seattle area.
The startup, founded last June, garnered more than $1 million in a seed round led by Dave McClure, of 500 Startups, and Rudy Gadre, former senior executive at Facebook and Amazon. Other prominent investors include Denny Hill Capital, TEC Ventures, TA Venture, Linden Rhoads, Sujal Patel, and construction company McKinstry.
"We have the top minds in Seattle and Silicon Valley helping us to get to the next level," says Andrey Nokhrin, CEO of BuildersCloud. "They are investing in our team, our vision, and our execution."
BuildersCloud delivers important construction documents to the palms of builders' hands, along with instant notifications to keep teams in sync. "Our cloud optimization technology is incredibly fast," says Nokhrin, "enabling instant access to key project documents that can often be over 100MB in size. Before, these files were impossible to email and too big to open on even the most advanced mobile devices."
Mobile technology has initiated disruptive change in other verticals, which the BuildersCloud team and investors expect will spread to construction as well. While historically construction IT spending has ranked near last among industries, expenditures are accelerating as tablets and smartphones become a fixture on the jobsite and in the office. According to a 2013 study by EMA Contractors, 68% of contractors are now using smartphones daily, a figure that rose by 35% in just the last year. Tablet use rose by 54% during the same period.
"Now that so many construction workers are carrying smartphones and tablets, empowering teams with the right mobile tools will be very powerful," says Nokhrin. In his firsthand construction industry experience, the timely delivery of an item as simple as a site-specific safety plan could save thousands of dollars per project.
"It's incredible— the waste that happens just because construction teams have no good way of collaborating," says Nokhrin. Through the solution developed by BuildersCloud, what before took up to a week with paper plans and spreadsheets can now be done in minutes through a tablet. With new advances in cloud technology like theirs, "huge delays, mistakes, and lawsuits can be avoided."
By providing a centralized home for all of the many different files that are used on construction projects daily - PDFs, photos, safety manuals, task lists and more, BuildersCloud targets improved productivity and collaboration throughout the entire construction process.
"BuildersCloud is a great application to help project teams be more organized and efficient," said Doug Moore, President of Seattle-based McKinstry, a construction and retrofit firm with over 1,600 employees and $400 million in annual revenue.
Features like smart notifications and SMS text alerts are designed to help project managers cut through the noise of email— helping projects to finish ahead of deadline and within budget, which, according to Nokhrin, "is huge for construction businesses who already operate on small margins. This means they can do more projects, be more profitable, and keep their customers happier."
It's an audacious vision, but already well under way. With a growing base of registered users from across the US and as far as the United Kingdom, Australia, and Latin America, BuildersCloud looks to be gaining a sizeable share of the growing construction IT market.
Says Nokhrin, "BuildersCloud opens new opportunities for collaboration that were not possible just a year ago."
The BuildersCloud team recently graduated from the 2013 Microsoft Accelerator, powered by TechStars. "It's very powerful to be a TechStars alumni," says CTO Konstantin Novikov who left Microsoft to join BuildersCloud. "The program gave us access to top talent, mentors, and resources. Altogether, it allowed us to do more in a short period of time."
How is BuildersCloud planning on using the seed funds? Says Nokhrin, "In addition to adding full-time product and sales talent, we are bringing on additional developers to help us scale faster, ensuring our commitment to provide our customers world-class software that is innovative, secure and provides a lot of value."
For more information, please contact Brian O'Shea, Director of Product, by email at brian(at)builderscloud(dot)com or by phone at 1-888-995-0261 X301.
About BuildersCloud:
BuildersCloud makes sharing construction information easy with instant access to large files from any mobile device. By keeping everything in a centralized project hub, featuring real-time notifications that keep teams in the loop, BuildersCloud enables faster field-to-office collaboration and streamlined issue resolution.
Web: http://www.builderscloud.com
Twitter: @BuildersCloud