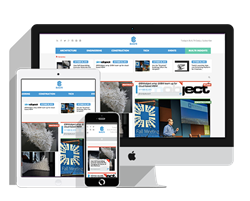 MANCHESTER, NH (PRWEB) January 07, 2016
BUILTR LABS introduces BUILTR.IO, a unique source of innovation for next-generation AECO professionals. BUILTR.IO was created to inform, inspire and educate young AECO leaders who are designing, building and maintaining the world we live in, now and in the future.
"There is no shortage of stories of innovation coming from media companies, associations, individuals and AEC firms themselves. The challenge is that the information is typically spread far and wide across the internet, often in industry silos, and it is difficult to find. BUILTR.IO makes it easy for people to discover innovation and share it online, on social media and through our BUILTR DAILY email newsletter." Commented Steve Bracy, Co-Founder of BUILTR LABS.
"We launched BUILTR.IO because we believe that there needs to be a unifying voice of innovation to inspire and educate next-generation AECO professionals. Most AEC professionals are too busy working on their projects to stay informed about the new and innovative technologies that are emerging in the design, construction and maintenance of infrastructure and buildings worldwide. BUILTR.IO finds and shares the stories of innovation that will make a real impact in the world now and in the future." Added Colby Jordan, Co-Founder of BUILTR LABS.
Through a blend of intelligent software and hand curation, BUILTR.IO discovers the best innovation in AEC and the built environment and shares them on our website and through social media. BUILTR.IO also shares top innovations through a daily and weekly newsletter with thousands of subscribers.
About BUILTR LABS
BUILTR LABS is committed to improving the world we live in through innovation and technology. The first product out of BUILTR LABS is BUILTR.IO, a new platform for the next-generation AECO professional, sharing the day's best innovation stories from leading industry influencers about innovative technologies, companies and exceptional people that are changing our world for the better. Visit BUILTR.IO for more information.