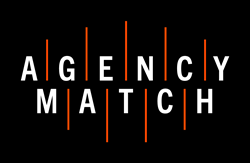 "Bull & Beard has helped me and my team several times, in each instance bringing us a curated selection of capable agencies. They're my first choice when I need to expand our marketing capabilities.. Make your life easier and give them a call." - Jonathan Waller, Fujitsu
WINSTON-SALEM, N.C. (PRWEB) July 19, 2019
Bull & Beard, an agency collective founded in 2013, announced today that they have launched Agency Match, an agency directory and matchmaking platform like no other. Agency Match gives brands free access (no registration required) to vetted and vouched-for specialized agencies.
In order to join, agencies must apply for an Agency Review, which includes a 1-hr interview, work review and reference checks. They are accepted into Agency Match only if there's value alignment, high standards and best practices in place. Innovating on the classic location-based directory model, Agency Match instead allows brands to search by capability and category experience, which they believe are the two most important search criteria when starting an agency search. In another spin on the traditional directory model, all agency profiles are written by Bull & Beard from an independent, third-party perspective. CEO Robby Berthume says "It's an Ebert and Roeper-style directory where we're acting as 'agency critics' for brands in need of partners they can trust. We help focus the agency's offering and hone in on their true value proposition. We position and pitch the agency on their profile without sugarcoating the truth."
Bull & Beard's goal is to onboard 50 agencies a month to build up a diverse directory of nearly 500 specialized agencies over the next year and 1,000 long-term (there's a lifetime cap of 1,000 profiles). They'll start with their own collective of hundreds of vetted and vouched-for agencies, many of whom have expressed interest. The pace of growth is intentional… first, because they are conducting Agency Reviews and developing Agency Profiles themselves and not outsourcing this valuable piece and second, because they see value in a directory of no more than 1,000 specialized agencies. They want to keep Agency Match selective and exclusive. Whereas other directories let you search literally tens of thousands of agencies, Agency Match is far easier and more efficient as it delivers a vetted selection of agencies with the capability and category experience you need instead of hundreds of profiles to sort through. CEO Robby Berthume says: "We're different from similar sites like Clutch, AgencySpotter.com and AgencyFinder.com thanks to our vetting process (no one else does this), the depth of our relationships, and the positioning and third party perspective we bring to each agency's profile. All of these factors shortcut your shortlist."
The top three reasons brands love Agency Match:
+ Find a specialized, aligned agency for free with no sign-up or registration required.
+ Streamline your search with access to vetted & vouched-for specialized agencies curated by Bull & Beard.
+ Third party experts write agency profiles that provide perspective on agencies from the inside-out.
The top three reasons agencies love Agency Match:
+ Attract high quality opportunities from mid-sized companies to Fortune 500s.
+ Expert agency matchmakers develop your positioning and pitch for your agency profile.
+ Show up in searches that aren't saturated with a cap of 1,000 agency profiles.
Visit Agency Match today and browse our vetted and vouched-for specialized agencies or sign-up as an agency to reserve your spot and receive six months free on the platform.