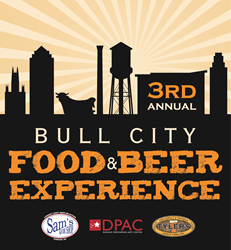 Durham, NC (PRWEB) October 27, 2014
October 27, 2014 (Durham, NC) – DPAC, Durham Performing Arts Center, partners with Tyler's Restaurant & Taproom and Sam's Quik Shop to host 3rd Annual Bull City Food and Beer Experience!
What: Bull City Food & Beer Experience - Three local partners collaborate to create a true Bull City Experience with a national twist! DPAC, Sam's Quik Shop together with Tyler's Restaurant & Taproom founded the Inaugural Bull City Food & Beer Experience to stimulate and educate the palate and mind through pairing of local food showcasing 30 Durham restaurants and unbelievable beer from 30 premier craft / import breweries. In addition to the food and beer pairings and after rave reviews and grand popularity, the event is bringing back the Onstage Experience! This year the focus is on North Carolina and its many splendid offerings. As guests mingle on stage and experience DPAC from a grand perspective that few get to experience, they will have the opportunity to sample a variety of food and drink from local vendors and meet the people behind them.
When: March 8, 2015, 4pm-8pm.
Where: DPAC, Durham Performing Arts Center, 123 Vivian Street, Durham, NC 27701.
Who: Fans of Food & Beer.
Tickets: Tickets go on sale Saturday, November 1, 2014, at 10AM.

Online at DPACnc.com and/or bullcityexperience.com
DPAC Ticket Center: 919.680.2787, 123 Vivian Street, Durham, NC
Ticketmaster.com / Ticketmaster Charge by phone at 800.745.3000
Benefiting: This event is a fundraising event to benefit the Ellerbe Creek Watershed Association (http://www.ellerbecreek.org/).
Friends of DPAC members may place their orders on October 31st. Joining Friends of DPAC is free at http://www.DPACnc.com/fod.
Admission into the Bull City Food & Beer Experience includes:

Souvenir Glass
Food sampling from 30 of Durham's finest restaurant's and Beer Tastings from 50 breweries.
Live Music on stage
A limited number of Imperial VIP Ticket Holders will enjoy all elements of regular admission plus an exclusive event poster, exclusive T-shirt, 30-minute early event access, private access to VIP tasting lounge, VIP imperial laminate and specialty spirit, rare beer and wine tasting only available to Imperial ticket holders.
This event is a fundraising event to benefit the Ellerbe Creek Watershed Association (http://www.ellerbecreek.org/). The mission of the Ellerbe Creek Watershed Association is to:

Enable a living creek - a healthy stream in which an appropriately diverse group of native fish and invertebrate species thrive.
Create a network of preserves and trails along which people can hike, bike, and walk from the Ellerbe Creek headwaters to Falls Lake.
Build ties among Durham's diverse neighborhoods and communities using Ellerbe Creek as a link.
Partner with the City and other groups that seek to move Durham to become a regional model for proactive urban stormwater management.
Help adults, and especially kids, have the opportunity to enjoy and appreciate being outdoors in a learning and safe environment.
For additional information including participating restaurants and breweries, please visit bullcityexperience.com

Date, time, prices, and all participants are subject to change.
All ticket holders must be 21+ years of age and must bring valid photo ID. Event reserves the right to refuse service to anyone at anytime.
####
ABOUT DPAC:
Since its opening in 2008, DPAC, Durham Performing Arts Center, has become the center for live entertainment in the Triangle. Recognized for its contemporary design, DPAC features 2,700 seats, intimate sightlines and state-of-the art sound and video. Listed four times in the top 10 in Pollstar magazine's annual worldwide theater attendance rankings, DPAC is currently the #4 ranked theater in the U.S.
What is up next at DPAC? Singing Sensation Susan Boyle on Her First American Tour (October 29), Breakout Artist and American Idol Winner Phillip Phillips (November 2), and Americana Music Association Artist of the Year Jason Isbell (November 6).
For more information please go to http://www.DPACnc.com.
About Sam's Quik Shop (http://www.samsquikshop.com)
A historic landmark known for its expansive selection of craft beers, Sam's Quik Shop is the store of choice for beer enthusiasts. Offering more than 1400 different craft beers locally brewed and from all over the world, this eclectic bottle shop boasts a reputation across the state and Southeast as one of the premier beer stores. Customers can also find 400 wines, 60 different ciders, champagne, and a variety of kegs as well as a large selection of cigars displayed in four large humidors. A friendly, knowledgeable and helpful staff is there to serve.
Often referred to by Durhamites as "the Blue Light," Sam's opened in 1950 as a restaurant. Today, the beer mecca is a destination spot for locals and those who travel across state lines to enjoy the vast array of beers and wines, much of which is chilled and ready to enjoy. Mix and match singles to create a magical six pack!
About Tyler's Restaurant & Taproom (http://www.tylerstaproom.com)
Serving business-paced lunches by day and casual dining at night, Tyler's offers ever-changing American Comfort food with a seasonal twist. Additionally, Tyler's offers one of the most unique beer selections in the area, with up to 80 craft and specialty import beers on draft. After dinner, visit The Speakeasy to play some pool or watch a favorite team on one of our many HD TV's. Visit any of our four locations throughout the Triangle including our original location in downtown Carrboro, in Durham at American Tobacco Campus, in Apex at Beaver Creek Commons and our newest location in downtown Raleigh located at Seaboard Station.