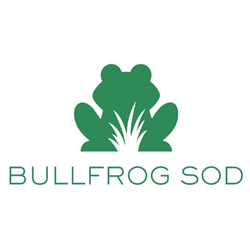 ADAMSTOWN, Md. (PRWEB) November 10, 2022
The owners at Bullfrog Sod farm in Adamstown, MD want homeowners to know they don't have to postpone their landscaping plans until spring. Not only is it completely safe to lay sod in cold and even freezing temperatures, it can also be advantageous. The pluses of laying sod in cold weather include less watering (about every other day versus twice a day during the summer) and less risk of burning/dehydration from the hot summer sun. In fact, excessive heat and lack of rain are the biggest threats to freshly laid sod. Conversely, early morning frosts and dews that Maryland homeowners typically see on their lawns in the fall and winter are naturally hydrating.
Allie Bennett, COO of Bullfrog Sod, says she often gets calls from homeowners asking how to lay and care for their sod. "The first 24 hours after harvesting sod are the most crucial," she explains. "The basic guidelines I usually give my first-time sod customers are:
1. Lay sod within 24 hours of its harvest
2. Till soil before laying the sod. If soil is extra dry, add nutrient-enriched topsoil
3. Saturate freshly laid sod with water promptly
4. Continue watering sod twice daily in hot weather, once daily in temperate weather, or every other day in cooler weather (even when it's freezing)"
Allie says extra steps, which can be helpful but aren't necessary, include fertilizing the sod prior to watering, and rolling or tamping after watering (grass rollers and tampers can be purchased/rented from most home improvement retailers).
Every homeowner will have their own unique lawn, soil composition, and desired outcome. For customized advice, call Allie Bennett at (301) 662-0736.
Bullfrog Sod is a Limited Liability Corp. established in MD in 2021 to seed, grow and harvest sod for retail and commercial landscaping use.