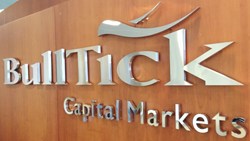 "China has immense degrees of freedom to react to possible adverse economic scenarios.The political and economic system of this country allows the authorities to react fast to new developments,and the markets are not pricing that in."says Alberto Bernal
Miami, FL (PRWEB) August 08, 2013
US equities last week made new record highs with the S&P500 touching a historical peak at 1,709 and with emerging market assets riding the coat-tails of a stronger risk appetite environment.
The Bulltick Research team was available for analysis and commentary for our clients via conference calls, public speeches, and on-site visits in the past week while also disseminating our views to a wider audience via various media from print newspaper, to radio, to television last week.
Alberto Bernal, head of Research and managing director of Bulltick, gave an interview to Chile's pre-eminent business newspaper, Estrategia, on the markets in a piece entitled "Latinoamérica ya tocó fondo de los episodios de China y la Fed". He does not recommend being out of the markets at this point and remains sanguine about the future performance of the Chinese economy: "China has immense degrees of freedom to react to possible adverse economic scenarios. The political and economic system of this country allows the authorities to react fast to new developments, and the markets are not pricing that in." Therefore, Mr. Bernal thinks, the economic slowdown of the Latin American region has likely run its course, and better fundamental news are likely coming. Read the piece here.
On September 3, Bulltick's Head of Research, Alberto Bernal, will be addressing an audience of economists in Montevideo, Uruguay, as part of the annual meeting of Felaban (Latin American Banking association). Alberto will be talking about the future performance of the Latin American economies under the current world economic landscape.
Last week Bulltick Research was in Bogota, Colombia, where Kathryn Rooney Vera, macroeconomic strategist and director at Bulltick, gave a speech to some 85 Chief Financial Officers at the Latin Trade CFO event. In attendance were CFOs from Pacific Rubiales, Director of Colombia's Bolsa de Valores Stock exchange, Sura Asset Management, and companies from the real economy such as P&G, HP, Caterpillar, etc. Kathryn met with eight of Bulltick's biggest clients while in Bogota to share Bulltick's macroeconomic and market views and maintain our strong relationships.
On Friday, August 2nd, Kathryn Rooney Vera appeared on the CNN en español program "Dinero" in the prime time slot of 8:00 p.m. In a 23 minute on air interview, she gave her views on the winners and losers for the week. The week's winner was in her view risk assets: the S&P touched new record highs, the European equity benchmark index climbed by 2.5% for the week; the Mexican peso rose 1.2% on the final trading day of the week, the fund tracking the Mexican Bolsa +2%, and that tracking the Brazilian Bovespa +1% on Friday along. US non-farm payrolls' disappointment that morning took market sentiment higher, as it priced in a potentially more drawn out, delayed reversal of currently highly-expansionary US monetary policy.
The loser, in her view, was the achievement of a US long-term fiscal deficit agreement with the political pressure lower on the back of some short-term improvement in the monthly deficit numbers while the long term trends remain unresolved with few political voices calling for long term deal or resolution. She expects another short-term fix ahead of the September end of the current fiscal year and approaching breach of another debt ceiling. Watch her live appearance on CNN en español here.
Also, on Friday, August 2nd, Kathryn was interviewed on Radio Argentina FM 94.7 discussing future investment opportunities in both the emerging and developed world. To listen to her radio interview (in Spanish) please click here.
About Bulltick Capital Markets
Bulltick Capital Markets Holdings, LLC, through its subsidiaries, is a securities brokerage, asset management and investment banking firm that provides its clients with diversified financial products by leveraging its Latin American roots and international expertise. We offer insight, opportunities, and top execution services to financial institutions and qualified investors.
Headquartered in Miami, Florida with offices in Mexico City and Bogota, we are optimally positioned to serve the needs of Latin American and other clients seeking access to and expertise in US and global securities markets. We maintain our local roots, insight and networks within Latin America for the benefit of our clients. We offer our clients the personal service and flexibility of boutique firms along with the financial capabilities of larger institutions. We deliver services through five business lines: Sales and Trading, Full Service Brokerage, Wealth Management, Investment Banking, Research.