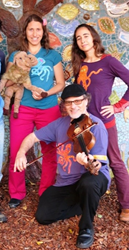 Octopretzel creates engaging music which inspires curiosity, imagination and awareness of the magical world we live in. It is a danceable, singable and super fun experience for kids of all ages. – Discovery Museum newsletter, Sausalito, CA
SAN RAFAEL, Calif. (PRWEB) February 12, 2019
Get ready for a fun, light-hearted musical ride as this talented threesome leads the way through a variety of cultures and musical styles. Octopretzel creates a program of joyful, jumpin' music with inspirational, interactive songs.
Prepare for some great family time with this very engaging and super-fun musical experience that just might include a little silliness and a lot of wiggling. Sing and dance along with Octopretzel's fantastically folksy, interactive, inspirational songs about the wonders of nature and the beautiful world.
Come join the community for this family friendly, fun, inspiring, interactive live music experience.
The show begins at 11:30 a.m., and lasts approximately one hour, but be sure to come by 11 a.m. for some hands-on art activities and opportunities to get creative with new friends.
WHAT: Fun, family friendly, interactive live music, nature-inspired concert. Hands-on art activities.
WHEN: March 31, 2019 @ 11 a.m.

10:30 a.m.: Will Call/Box Office
11 a.m.: Theater Doors Open / Hands-on Art Activities / Concessions Open (Snacks, Peet's Coffee, Numi Tea, & Hot Cocoa Available for Purchase)
11:30 a.m.: Show begins
SEATING: General Admission
WHERE:The Osher Marin JCC, 200 North San Pedro Road, San Rafael.
TICKETS: $10 - Purchase HERE
More Info: Available at marinjcc.org/arts
PARKING: Ample FREE parking | The Osher Marin JCC is easily accessible - 1/2 mile E off 101.
MORE: Recommended for children 4-8. Siblings welcome!
Octopretzel's music comprises original songs as well as traditional favorites. The music is whimsical and fun, with an understanding of nature, feelings and storytelling. Best described as folk music, their songs cross generations and genres, weaving together many different musical styles, instruments and themes. Their intention is to create music that can be enjoyed by humans of all ages - children, and their parents too!