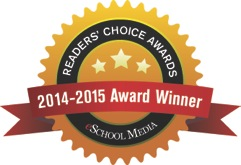 Awards like these are validation that there is a need for an easy and creative tool for students as content creators.
Calverton, New York (PRWEB) August 01, 2014
Buncee®, a new K-12 web based creation and presentation tool for students and educators, received eSchool News' 2014-15 Readers' Choice Award this week. The Readers' Choice Award is presented to the best products and services in educational technology as decided by the readers of eSchool News, a publisher of K-12 edtech news and information.
Over 1,300 administrators and educators across North America nominated their favorite edtech tools this past spring. Vendor nominations were not accepted to ensure the integrity of the honor. Buncee is delighted to be among the 50 distinguished winners to receive this award.
Buncee CEO, Marie Arturi notes, "We're so excited to win based on the nominations of eSchool News readers. Awards like these are validation that there is a need for an easy and creative tool for students as content creators. We are motivated everyday by the fact that educators find buncee as the perfect solution to address this need."
Edu.buncee.com, currently in use at over 50 Long Island schools, provides a simple web based canvas where students and teachers can combine various multimedia web content along with buncee backgrounds and stickers to create original digital stories, multimedia rich research projects, assignments, and more. Using the classroom management dashboard, educators can also grade the students' creations and review their buncee making progress over time.
As Shannon Miller, Van Meter Community School District Teacher Librarian and Technology Integrationist, has commented, "Buncee is one of our favorite new digital tools! It gives you the ability to create beautiful presentations using images, videos, sounds, stickers, and so much more. The sky is the limit when creating with buncee! Each [buncee] is a unique, creative way for our young people to share their passions and voice!"
All the award recipients and Honorable Mentions will be recognized in a special feature in the August 2014 edition of eSchool News and eSchoolNews.com. Further details are available at http://www.eschoolnews.com/rca.
About Buncee
Buncee® simplifies online content creation with its digital canvas and easy-to-use tools. Whether teachers are flipping their lessons or students are crafting their own unique digital stories, creating engaging original content on edu.buncee.com is simple and fun. At school, at home, or even at work, buncee makes it easy for even the most 'nontechnical' users to create interactive multi-media creations that can be shared with customizable privacy settings. For more information, visit: http://www.edu.buncee.com.
About eSchool Media
eSchool Media Inc. is a news and information organization delivering print, online, email, and video communications to more than half a million K-20 decision makers and influencers throughout North America and around the world. Its information networks help educators successfully use technology to transform education and achieve their goals. eSchool News is the flagship publication of eSchool Media Inc., which also includes eCampus News, serving higher education, and eClassroom News, an electronic publication network for teachers.