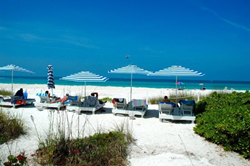 SARASOTA, Fla. (PRWEB) September 23, 2018
Bungalow Beach Resort on Anna Maria Island, Florida, earns the coveted 2018 Hall of Fame Trip Advisor Award for holding the Certificate of Excellence for five consecutive years alongside her sister property, Siesta Key Bungalows, which continues to win multiple impressive awards.
Both resorts have been recognized year after year for hospitality leadership and have been awarded the 2018 Trip Advisors Certificate of Excellence which puts them in the top 10% of properties globally along with recognition from The Superior Small Lodging Association. Siesta Key Bungalows has also been awarded the HotelsCombined.com Recognition for Excellence which places the hotel in the top 3% worldwide for customer satisfaction.
The HotelsCombined.com award is recognized for consistently achieving the highest standard of customer satisfaction globally. The hotel claims a high satisfaction rating among guests and travel industry experts receiving 250 reviews for an impressive rating of 8.7 out of 10. "Trip Advisors 2018 Certificate of Excellence celebrates experiences and travel businesses that have consistently received strong praise and ratings on the World's Largest Travel site," said Heather Leiman Vice President of Industry Marketing, TripAdvisor.
This year Siesta Key Bungalows was awarded 100% Housekeeping Cleanliness and Bungalow Beach Resort received 98%. Siesta Key Bungalows was awarded the White Glove Award by the Superior Small Lodging Association to distinguish hotels and resorts whose housekeeping standards are rated beyond exceptional.
Owner of 20 years, Gayle Luper, sets the bar higher each year with continued success and award-winning standards. Luper oversees management and operations on a day to day basis and ensures excellent customer service and attention to detail. "I am thankful for the fine managers and staff, and our wonderful guests, for without them it would not be possible to achieve these awards," says Luper. Both Resorts are located on islands ranked in the Top 3 US Beaches. Siesta Key Beach holds the #1 Spot for Best Beach in America by Dr. Beach while Anna Maria Island ranks #3 Best Island by Forbes.
In celebration of the 2018 Hall of Fame Award and The Combined Recognition of Excellence, Bungalow Beach Resort and Siesta Key Bungalows are giving away a Free Romantic Getaway Weekend. The winner will have their choice of stay at either resort.
Please visit the official Facebook pages to like, comment and share for the chance to win a Free Romantic Getaway at an award-winning hotel. The winner will be announced through Facebook on October 15, 2018. Facebook Link: https://tinyurl.com/FreeBBRWeekend
A recent five-star review on Trip Advisor stated, "We have been going to the Bungalow Beach Resort the past 14 years now and once again had an amazing experience! The location is right in the middle of everything, yet it is very relaxing and quiet on the actual grounds. The bungalows and views are breathtaking! We have a four-year-old as well as 8-year-old, and they always have a blast and look forward to our yearly visit there! Thank you, Bungalow Beach Resort, for the amazing memories!!"
A recent five-star review on Trip Advisor stated, "Our son had never seen the ocean, and we drove down for two nights and stayed in Siesta Key Bungalows, it was beautiful and very clean. Staff is friendly, and the view of the lagoon is gorgeous. They have a pool and free bike rentals as well as kayaks. Will definitely visit again! The beach was a short drive with beautiful white sand!"
*Free Romantic Getaway Weekend; winner will have choice of a free weekend at BBR or SKB, two free nights valid through January 31st, 2019, excluding holidays. The contest is open until October 15th 2018.
For Further Info:
Contact Siesta Key Bungalows at: 8212 Midnight Pass Road, Siesta Key, FL, 34242. Tel.: 1-888-5-SIESTA. http://www.siestakeybungalows.com Email: mail(at)siestakeybungalows(dot)com
Contact Bungalow Beach Resort at: 2000 Gulf Dr. N, Bradenton Beach, FL, 34217. Tel.: 800-779-3601. http://www.bungalowbeach.com Email: bungalow(at)bungalowbeach(dot)com