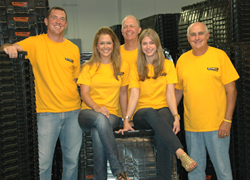 BungoBox™ is better for the environment, better for our customers, better for everybody", says Sheila Flores, owner Austin-based moving company.
Austin, TX (PRWEB) July 29, 2014
BungoBox™ Austin celebrates its second year in business with tripled growth in both the commercial and residential moving markets. Owners Steve, Lauren and Keely Doering, Jay K. Shiffler and Don Alexander, are thrilled with the market adoption of plastic, recycled, reusable plastic moving bins vs. cardboard, and expect to triple numbers again next year. "We're fortunate that Austin is a highly educated market that adapts to change quickly," says Don Alexander who is also the General Manager. "The shift to plastic vs. cardboard may be tough for some people to wrap their heads around," he states. "Many folks assume they're too expensive, but once they understand that they save 50% over using cardboard boxes, they love the concept and sing our praises," he continues. "Our reviews for both the products and service are off the charts and we're proud of that."
Previously, reusable plastic moving boxes with a special envelope lid were only made available to the commercial moving market – primarily for office moves. With the advent of BungoBox, the same boxes, as well as garment boxes have been available to the residential market for the last few years.
The concept of renting reusable plastic bins is certainly not new, but had been limited to Fortune 500 companies, supermarkets or pharmacies moving from location to location in the past. Now, BungoBox customers (residential and commercial) can not only avoid increasing their carbon footprints, but also avoid some of the high cost of moving, saving an average of 50% over cardboard.
How It Works
The concept is simple. A BungoBox truck delivers the stackable moving boxes (a large box of about 2.5 cubic feet rents for $1.75 a week, each additional week is 50% off) to a customers' doorstep. Once they've been unpacked, BungoBox picks them up at the new residence. In other words:
1. The customer calls BungoBox or places an order online.
2. BungoBox helps the customer determine the number of boxes needed.
3. BungoBox delivers the boxes to the customers' doorstep.
4. The customer packs up belongings and moves to the new home.
5. The customer calls BungoBox and they promptly pick up the boxes at their new home.
According to the American Moving and Storage Association, Americans spend approximately $10 billion annually on moving and packing services and products. On average, a typical U.S. resident will relocate 16 times in a lifetime, or about once every five years. If you use an average of 50 boxes per move, each person runs through about 800 cardboard boxes alone in a lifetime. Yet, only half of the cardboard boxes used end up in the recycle bin according to the U.S. Environmental Protection Agency. Instead, most end up in a landfill. Renting BungoBox reusable, interlocking recycled plastic moving containers will help ease this burden (236 million tons in 2003) and save consumers time, money and waste over traditional moving methods and the Doering family and friends encourage all to join their "war against cardboard"!
The Reviews are In
"I think BungoBox is FANTASTIC" writes a recent customer. Notes another, "I was very happy with the whole process – it was easy and smooth on both ends. The boxes were tough; none of my stuff was broken and the ability to stack them, both while full as well and when ready to be picked up, was wonderful. I was especially pleased that they were so clean on arrival." And a third wrote "I have recommended [BungoBox] to all my clients (I'm a Realtor) - I loved them! The owner of one of the many local moving companies using BungoBox bins says, "My experience overall is very positive; 5 stars!"
History
Determined that Austin deserved a moving solution in synch with its population's eco-conscious and cost-conscious values, the Doering family and friends established BungoBox™ in 2012, offering Austin homes and businesses the means to rent recycled, reusable plastic moving bins at half the price of cardboard.
Steve Doering, whose great grandfather settled in the area in the late 20th century, followed in his ancestors' footsteps, establishing several successful locally-based service companies. His daughters, Lauren and Keely, as well as longtime family friends Jay K. Shiffler and Don Alexander, enthusiastically joined him to bring BungoBox to Austin in 2012. The company met with immediate success and is growing quickly, primarily due to customers' wholehearted recommendations and reviews.
About BungoBox Austin
BungoBox is a national franchise founded in May 2009. BungoBox Austin was established in 2012 by a fifth generation Austin family and their friends and is currently the leading reusable moving bin provider in the Central Texas area. For more information, please visit http://bungobox.com/austin-moving-boxes.