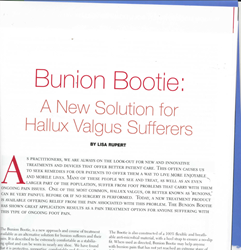 We are extremely impressed with the Bunion Bootie as it actually addresses the bio-mechanics of the problem clients complain about, and have found their use extremely effective.
San Luis Obispo, CA (PRWEB) August 21, 2014
Bunion Bootie was recently featured in the July/August edition of Current Pedorthics, a bi-monthly publication of the Pedorthic Footcare Association and the only professional publication dedicated to the field of pedorthics.
Bunion Bootie is a new approach and course of treatment available as an alternative solution for bunion sufferers and their pain. It is extremely comfortable as a stabilizing splint, and can be worn in nearly any shoe to eliminate the friction and rubbing of shoes against the bunion area, which is often already inflamed. We have found that it is protective, supportive, comfortable and discreet to the patient or client using the device. It is designed to help properly position the great toe and reduce the pressure on the MTP joint, soothing stress of the bunion joint. It helps to stabilize the foot without adding unnecessary and unwanted bulk or pressure against the sensitive area.
Bunion Bootie is available in 5 sizes for the left or right foot for the perfect fit. Recently, Bunion Bootie introduced its newest model -- one without the toe hole -- per the request of some customers who found the toe hole was not suitable for the shape and size of their toe or foot.
When individuals have been diagnosed with a bunion, it can be excruciating, annoying and embarrassing. Bunions often interrupt and prevent them from participating in daily activities. At this point, patients often seek medical intervention. They are often advised that without changing their footwear (to a wider toe box), the bunion will likely only worsen in time. This restricting pain and discomfort leads most bunion sufferers to surgery, which has a long list of possible complications and risks, as does any surgery.
Why not try Bunion Bootie before resorting to surgery?
About Bunion Bootie
Bunion Bootie, established in 2011 by a small group of bunion sufferers who came together in search for an effective non-surgical treatment for bunions, is the perfect answer for people who must stay on their feet for prolonged periods. Office professionals, shift workers, athletes, and other users worldwide have discovered Bunion Bootie. Bunion irritation, if left untreated, can result in blisters, swelling, tenderness, and bursitis. At only 0.4mm thick, Bunion Booties fit comfortably in almost any shoe (including high heels and running shoes) and are made with odor and bacteria resistant materials.
Please visit their website https://www.BunionBootie.com for full details. Discounts are available for purchases of more than one (1) Bunion Bootie and can be found on the website. For more information, contact Bunion Bootie through the company's website, BunionBootie.com, or by emailing at CustomerService(at)BunionBootie(dot)com.
If you are interested in stocking Bunion Booties in your medical practice, please contact Lisa Rupert at Lisa(at)BunionBootie(dot)com.