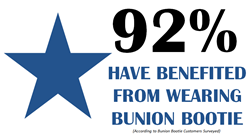 10% off in ADDITION to our the automatic discounts applied when buying two (2) or more Bunion Booties in a single checkout.
San Luis Obispo, CA (PRWEB) June 30, 2014
Bunion Bootie, the newest and best in non-surgical bunion treatment, celebrates our nation's birthday by offering 10% off all orders of two (2) or more Bunion Booties. Use coupon code "PR10" today through Sunday July 6th, 2014 when customers purchase directly from their secure website, https://www.BunionBootie.com, where savings start at over $16.00 and only get greater with larger orders.
Bunion Bootie temporarily corrects misaligned toes, and its ultra thin properties allow for protection against rubbing footwear to bring pain relief to those suffering from bunions. For a limited time only, bunion sufferers can take advantage of this limited time offer and save an additional 10% off their entire order. This promotion is in addition to the automatic discounts that are applied when buying more than one Original Bunion Bootie from the website. The more Bunion Booties purchased, the more money is saved.
Bunion Bootie was established in 2011 by a small group of bunion sufferers who came together in search for an effective, non-surgical treatment for bunions, a solution that they felt did not exist previously. Bunion Bootie is the perfect answer for those people who must stay on their feet for prolonged periods including office workers, shift workers, and athletes. Bunion Bootie fits in any shoe easily and comfortably and provides all day relief from the rubbing and irritation caused by bunions. Bunion irritation, if left untreated, can result in blisters, swelling, tenderness, and bursitis. At only 0.4mm thick, Bunion Booties fit comfortably in almost any shoe (including high heels and running shoes), and are made with odor and bacteria resistant materials.
Please visit their website https://www.BunionBootie.com for full details. Discounts are available for purchases of more than one (1) Bunion Bootie and those can be found on the website. For more information contact Bunion Bootie through the company's website, BunionBootie.com, or by emailing at CustomerService(at)BunionBootie(dot)com.