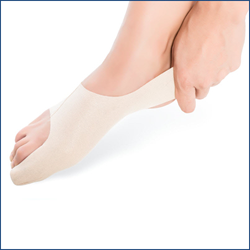 Since introducing this modified Bunion Bootie to our customers, we've been having trouble keeping them in stock!
San Luis Obispo, CA (PRWEB) June 25, 2014
Bunion Bootie strives to deliver the best in bunion relief products, product development, and customer service. Most recently, they exceeded expectations in all three departments when they announced the arrival of their newest bunion splint.
Driven solely by the request of their customers, Bunion Bootie recently introduced their newly designed Bunion Bootie, now offered without the toe hole. "Since introducing this modified Bunion Bootie to our customers, we've been having trouble keeping them in stock," says a company spokeswoman. "We had the intention of rolling out the new design to the public but by our surprise, we're having trouble just keeping up with the demands of our current customers. We've even run out of the X-Smalls but expect our inventory to be replenished in the coming weeks." Not readily available from the website, the new Bunion Bootie can be found at https://www.bunionbootie.com/bunion-bootie/new-bunion-bootie/.
Bunion Bootie a soft flexible bunion splint that helps to protect, relieve pain, and also gently separates the toes to relieve tension that often builds up in the big toe joint. It was the feedback from their loyal customer base that lead to the development and now, the highly anticipated release of the new design.
Bunion Bootie was established in 2011 by a small group of bunion sufferers who came together in search for an effective, non-surgical treatment for bunions, a solution that they felt did not exist previously. Bunion Bootie is the perfect answer for those people who must stay on their feet for prolonged periods including office workers, shift workers, and athletes. Bunion Bootie fits in any shoe easily and comfortably and provides all day relief from the rubbing and irritation caused by bunions. Bunion irritation, if left untreated, can result in blisters, swelling, tenderness, and bursitis. At only 0.4mm thick, Bunion Booties fit comfortably in almost any shoe (including high heels and running shoes), and are made with odor and bacteria resistant materials.
Medical professionals are also choosing to stock their offices with, or refer their patients to Bunion Bootie as part of either; a post-operative regime, an option before resorting to surgery, or as shoe insoles for comfort.
Terms and Conditions do apply, review the Frequently Asked Questions before purchasing.