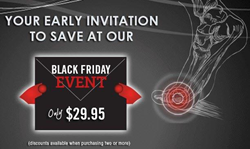 Bunion Bootie is slashing prices for the holiday season..but only for a limited time.
Paso Robles, CA (PRWEB) November 25, 2015
Bunion Bootie, the newest and best non-surgical bunion treatment, is offering lower prices in an early celebration of the early holiday shopping season. Starting Wednesday November 25th, Bunion Booties are being offered at the promotional price of $29.95 each (normally $33.95 ea). Black Friday promotional pricing is in addition to any automatic discounts applied when buying more than one Bunion Bootie, visit the Bunion Bootie website for complete details. It's simple: purchasing more Bunion Booties results in more savings, no coupon code required. If you spend $100, they even throw in free shipping. Order today, order many.
Bunion Bootie was established in 2011 by a small group of bunion sufferers who came together in search of an effective, non-surgical treatment for bunions. The result, Bunion Bootie, temporarily corrects misaligned toes and its ultra-thin, odor-and-bacteria-resistant material protects against chafing footwear, bringing pain relief to those afflicted with bunions. It's the perfect answer for people who must stay on their feet for prolonged periods of time, such as office workers, shift workers and athletes.
Bunion Bootie prevents the rubbing and irritation caused by bunions which, if left untreated, can result in blisters, swelling, tenderness and bursitis. At only 0.4-mm thick, Bunion Booties fit effortlessly in almost any shoe, including high heels and running shoes.
Please visit https://www.BunionBootie.com for full details. Discounts are available on the website for purchases of more than one Bunion Bootie. For even more information, email Bunion Bootie at CustomerService(at)BunionBootie(dot)com.