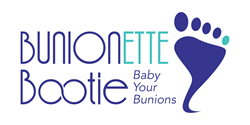 BunionETTE Booties are now eligible for Multiples Discounts
Paso Robles, CA (PRWEB) January 28, 2016
BunionETTE Bootie was first introduced in the fall of 2015 in response to customer requests for a tailor's bunion treatment, one similar to Bunion Bootie. Now, as the newest in bunionette (tailor's bunion) care, BunionETTE Bootie offers the same therapeutic properties as the Original Bunion Bootie, but now extends support, temporary correction, and protection to the little toe as well.
About Bunion Bootie
Bunion Bootie, established in 2011 by a group of bunion sufferers who came together in search of an effective non-surgical treatment for bunions. It is the perfect answer for those with active lifestyles or who must stay on their feet for prolonged periods. Hundreds of thousands of office professionals, shift workers, athletes, and users worldwide have become Bunion Bootie loyalists. Bunion irritation, if left untreated, can result in blisters, swelling, tenderness, and bursitis. At only 0.4mm thick, Bunion Booties fit comfortably in almost any shoe (including high heels and running shows), and can provide an ultrathin barrier to protect the sensitive area from rubbing against footwear while providing temporarily re-alignment of their big toe with the proper fit.
Please visit their website https://BunionBootie.com for full details. Discounts are available year round for purchase of two (2) or more Bunion Booties (and now BunionETTE Booties) and can be found on the website. Complimentary shipping is applied automatically on orders of 4 items or more. For more information, contact Bunion Bootie through the company's website, BunionBootie.com, or by e-mailing at CustomerService(at)BunionBootie(dot)com.