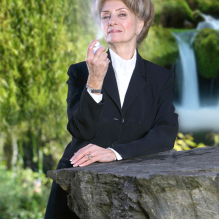 GRANTS PASS, Ore. (PRWEB) May 23, 2019
Date aired: May 20th, 2019
Guest: Bryan Snow, founder of Advanced Mobile First Aid & Safety & training manager at Bunzl Safety, Canada (https://www.bunzlcanada.ca/news/acquisition-announcement)
"Your relationship to water," says Sharon Kleyne, "is what my internationally syndicated weekly talk radio program, The Sharon Kleyne Hour Water Life Science®/Nature's Pharma®, The Power of Water® & Your Health sponsored by Nature's Tears® EyeMist® and Nature's Mist® Face of the Water® on VoiceAmerica is all about. Faith and all religions are rooted in the water," Kleyne continues. "The blade of grass, the trunk of the tree and the leaf itself depend on the Breath of Life® from earth's atmosphere. Water is your life. Without that water vapor in the atmosphere, you cannot live."
Nowhere is this more accurate than during a moment of crisis such as a forest fire, explosion, vehicle wreck, job accident or terrorist attack. At those extreme moments, the eyes and vision are especially threatened. "At that moment," says Kleyne, "one needs relief at the belt in the form of a pure water eye wash like Bio Med Wash®". (https://www.youtube.com/watch?v=G6k3i4LFrv4)
Bryan Snow, founder of Advanced Mobile First Aid & Safety and the training manager at Bunzl Safety in Canada with offices and outlets around the world concurs.
Snow and his associates educate on-site workers about safety procedures and the use of essential first aid products like Bio Med Wash® from the company Kleyne founded and serves as research director, Bio Logic Aqua® Research Water Life Science®. Referring to the Vancouver fires of 2018 Snow said, "fire fighters knew there was no running water in the forest, so they stocked up on Bio Med Wash® and Nature's Tears® EyeMist® to protect their vision. Otherwise, they knew they could be engulfed in flames." Snow also mentions concrete workers who at the end of their shifts suffer from a lot of particles and dust in their eyes. "They use Bio Med Wash® at the end of their shifts to clean their eyes," says Snow.
Snow and Kleyne also stress the importance of better proactive training in eye health care and response to emergencies. "You can walk into a drugstore and buy first aid supplies," Snow illustrates, but you're not necessarily getting the training you need to be proactive in an emergency.
Kleyne agrees. "In the modern era," she says, "people are not getting the education they did in the old days when they went into a store to purchase a product." Kleyne recalls that staff was always knowledgeable about the products they were selling and more than willing and able to teach customers about them.
"Exactly," adds Snow, "When I was a kid and bought a pair of shoes, I put my foot up on the post and someone tied my shoelaces for me. When you went into a gas station, someone put the gas in your car. Sadly, those days are gone."
Those days may be gone, but added value in education and training is a concept that is very much alive in people like Kleyne and Snow. That is why they are delighted to demonstrate the many emergency uses of Bio Med Wash® to cleanse the eyes with pure water that does not burn or blur like saline solutions on the market.
Fortunately, younger people are taking safety education and first aid more seriously than their predecessors. "Younger people care more about safety procedures," says Snow. "Generations before," he adds, "it was more the gunslinger approach—'my dad did it this way and he never got hurt'—but today younger people are smarter about safety and their health."
Kleyne points out that Bunzl Safety in Canada has supplied thousands of Bio Med Wash units to emergency personnel and saved many lives (and eyes) in the process.
*
If you would like to listen to the talk radio program featuring the conversation between Bryan Snow, founder/owner of Advanced Mobile First Aid & Safety & training manager at Bunzl Safety, Canada and Power of Water® talk radio host and Water Life Science® lifestyle and dry eye educator Sharon Kleyne about health, eye wash, emergency first aid service, safety products, water research, health and water, body water evaporation, water education and Water Life Science®, follow this link: https://www.voiceamerica.com/episode/115162/health-eyewash-and-emergency